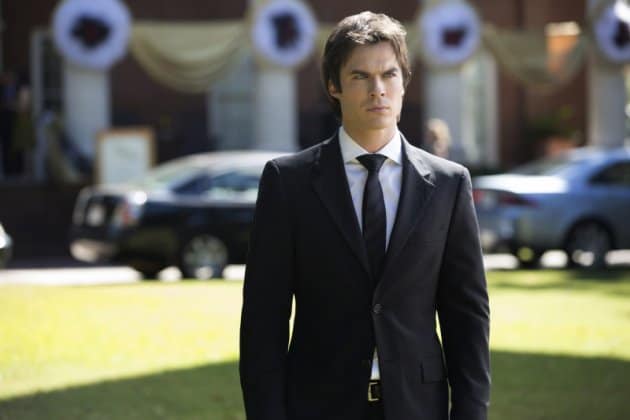 Mystic Falls is celebrating Christmas in mid-December with a Vampire Diaries episode appropriately titled "Oh Come, All Ye Faithful".
Here's what's in store for the holidays in Mystic Falls (hint: probably a lot of blood): "As a Winter Wonderland-themed party fills the streets of Mystic Falls, Stefan (Paul Wesley) and Caroline (Candice Accola) find themselves at odds with Tyler (Michael Trevino) over his plans for Klaus (Joseph Morgan) and his hybrids. When Caroline proposes a solution to their problem, Hayley (guest star Phoebe Tonkin) finds a dramatic way to make it clear that she is not on board. Later, Klaus makes a discovery that leads to chaos and violence. Meanwhile, Elena (Nina Dobrev) and Damon retreat to the Gilbert Lake House to help Jeremy (Steven R. McQueen) conquer some dangerous inner demons with the help of Bonnie (Kat Graham) and Professor Shane (guest star David Alpay), who reveals a piece of ancient history that leaves them all speechless."
It looks like Jeremy will be struggling with his new hunter role and it seems like Elena and Damon will be growing closer, which isn't a surprise given the preview for the upcoming November 29th episode (a.k.a. What Happens After Elena and Stefan Broke Up).
Don't miss the Christmas themed episode of The Vampire Diaries on December 13.