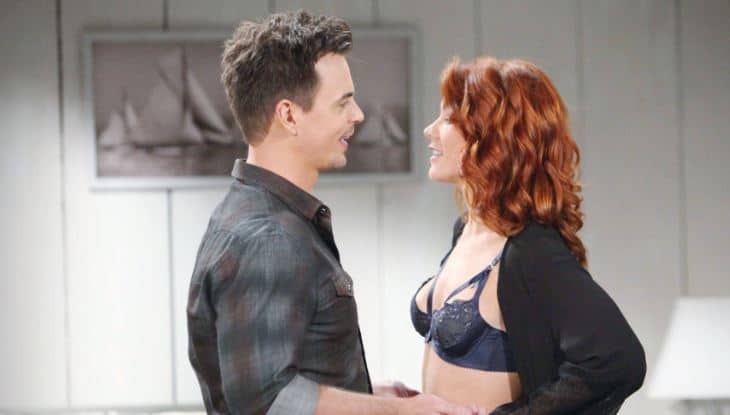 The Bold and the Beautiful fans watched as things took a turn for Katie. So far in the court case against her ex-husband and baby daddy, Bill, it's been all the bad things about Bill that she's wanting people to keep in mind before they allow him to have their son full time. She's been listening to and giving information that's not so pleasant or flattering about him, and it was her turn yesterday. She has to listen as Bill brought up the fact that she struggled with alcohol to the point it almost destroyed her. She's overcome her issues, of course, but he's happy to bring them up and try and make her good name appear just as muddy and disgusting as hers. She certainly wasn't happy listening to all of that, but she handled it better than we thought she might. She's a champ, and we are happy to have her here.
And then there was the fact that Brooke decided to go ahead and tell the world how she feels about Bill's parenting. Now, keep in mind she has no kids with him, so she has no bearing on what he is like as a father in the real world compared to someone who was the mother of his child, so we all found this quite interesting. Furthermore, we all think she's crazy for going against her husband like this for her ex. Finally, it was time for closing arguments as both attorneys came out swinging. Both want to win, and both will not stand back and allow the other to defeat them. This will be a tough call for all involved, and we don't even really want to see how it ends. We think it will not be in the boy's best interest, for certain.
What's Happening on the Bold and the Beautiful
Have a question for @Iamthorstenkaye and @IngoRademacher? Join them for a Facebook live on the #BoldandBeautiful Facebook page tomorrow at 1:30pm ET/ 10:30am PT! pic.twitter.com/JwqsrbTxWf

— Bold & The Beautiful (@BandB_CBS) October 1, 2018
There's a lot of brotherly love going on right here and right now, and we are all kinds of excited about seeing what these two have to offer as they go into this fun question and answer segment today. They make a team look good sometimes and bad other times on television, but they will certainly be entertaining to watch not in their characters.
What's Next on the Bold and the Beautiful
TODAY: Wyatt, Brooke and Bill all take the stand. #BoldandBeautiful pic.twitter.com/VQTOkCtSZ1

— Bold & The Beautiful (@BandB_CBS) October 1, 2018
This is the day we've all been waiting for together the past few weeks, and it's going to be big. The judge has a decision to make, and the fact that Ridge has made his own expectations in the way this will turn out is quite clear to the judge. The judge will struggle with what Ridge has to say, and that might just have a big impact on the way things go in the outcome of this case. Will the judge let what Ridge expects become what happens in this case, or will he make sure that things don't go his way? Whatever happens, we know one thing; Katie and Bill will be on agreement about something. And that's the fact that they will tell their son together what the outcome is.
And that's interesting to us. They cannot get along about anything, and they both want to take their son from the other. But here they are, all kinds of okay with telling him together what the judge decided to do. Now they want to work together? This makes us think that the judge is going to tell them both to grow up and stop this madness and simply be with their son on their own time and in their own lives. He might not give either of them what they want, but he might ask that they just stop this ridiculous behavior and co-parent like normal human beings. But, we aren't sure about that, and we don't know. So, the best we can do is hope they all make good decisions.
Stay tuned for more The Bold and the Beautiful and be sure to check out TVOvermind daily for the latest The Bold and the Beautiful spoilers, news, and updates.