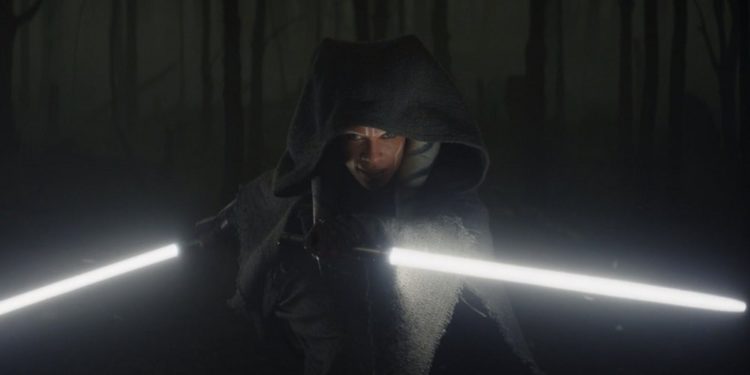 It's fun to have a lightsaber fight, especially with someone that's just as enthusiastic about it as you are since then it becomes double fun since both individuals want to do the best they can, and in some cases, it doesn't matter if neither one of them are that good, they're still bound to make it work since lightsaber fights are cool and if you know what you're doing then it's so much better. For these two individuals in Colorado, it was evident that not even the weather was going to stop them from having a friendly duel, but it certainly looks as though it was a little chilly out there for the contest. The sabers they're using are likely moderately expensive to high-end since that glow and the durability tend to make a person think that they're far better than the plastic, mass-produced toys that are sold in just about every toy aisle across the country. The good, quality lightsabers are sometimes entirely customized jobs that can cost a pretty penny since the materials they're made from and the customizations can drive up the price in a big way, plus, depending on who's making the saber, it could be even more expensive. But diehard fans are going to buy them if they can, and some will even forego other pleasures or even necessities in life to make sure they can procure one. These types of sabers aren't hard to come by and have even been rolled out in comic conventions all across the country.
Meanwhile in Colorado…@HamillHimself is that you?#StarWars pic.twitter.com/DIoaJEsYCb

— Robert C Stern (@RobertCStern) February 25, 2021
There's something hypnotic about a good lightsaber fight. With all respect to these two friendly combatants, the best lightsaber battles are those that feel like brutal poetry in motion since the blades twirl, whirl, and leave after-images on one's vision as they move through the air so effortlessly that one could almost wax on an on about it. But the thing about a lightsaber, and it's been mentioned a few times, is that if one is really noticing they'll see that the Jedi and the Sith are using the weapons as though they have the same weight as a regular weapon. That's kind of odd since the blade is little more than a contained loop of plasma and doesn't have that much weight to it. That means that swinging a lightsaber should be nearly effortless, which might allow for quicker slashes and jabs and the ability to end fights even quicker. Of course, many would argue that a fight again a lightsaber-wielding opponent might end quickly anyway, but it's a thought that bears repeating. There have been so many theories concerning lightsabers over the years that it's fair to state that the weapon has become something that some folks are determined to see made real at some point.
A few people have tried, and so far all that's really been developed is a saber that burns like a brand and a flaming torch that can burn through just about anything, but nothing as elegant as what we've seen in the movies and on the animated shows. One of the biggest problems is the power source since the Jedi and Sith have obviously figured out how to power their weapons with a small but very advanced power cell, while those that have tried making them in this day and age have had to huge, cumbersome power packs that have been strapped on their back. The dynamic of the lightsaber makes some sense, but the power source and the plasma loop just aren't fully possible at this time, if they ever will be. If a real lightsaber was ever created though it would be one of the most dangerous weapons in history since they're supposed to be able to cut through anything, meaning that flesh and bone wouldn't stand a chance as just a graze could amputate a limb. Plus, the reason that Jedi and Sith can use them so easily is that they're generally attuned and trained to use the weapons. If you were thinking 'what about Finn?', don't get us started since that was a fluke and a half, and Finn should have been cut in two. But anyway, the thing about a lightsaber is that there have been a few people in the Star Wars franchise that have used them that aren't Jedi or Sith, but one has to remember that even they knew about their capabilities.
But these two people were definitely out having fun and caught the attention of someone that just happened to be looking that way at the time, which made for a decent show apparently, according to the internet. It is a lot of fun to get into a lightsaber fight with another person that enjoys such things, as it's a small pleasure in life, but one that's bound to make a few memories.