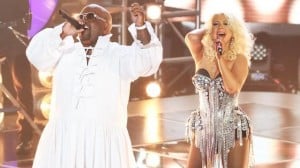 If there's one thing that can be said about The Voice, it's that they definitely know how to kick off a season.  In their usual fashion, within the first five minutes of the show viewers were treated to a full blown concert type performance by all four judges while confetti, glitter and spotlights showered the studio audience. Even if you weren't excited for the start of the show, you undeniably found yourself a little pumped after that opening.
Once the performance ended, the show jumped into its regular groove with the judges in their giant red chairs and Carson Daley back stage trying to dig up a back story from all the contestants, first up of which, was Scotland native Terry McDermott, who came to America to be a rock star.  As if his Scottish accent didn't make him charming already, he went ahead and opened up with a spot on rendition of "Baba O'Riley" that had all three male judges pushing their buttons. Despite his rock roots, Terry chose Blake as his choice for mentor, leaving his son to declare he would have gone with Cee Lo or Adam. You've got to love kids.
Next up was De'Borah from Chicago whose unique appearance had gotten her removed from her church's singing group.  With a very quirky rendition of "Hey Soul Sister," De'Borah earned her spot as Christina's first pick of the night.
Out of the gate next was Gracia Harrison who, at face value, didn't seem to stand out as unique or special. Then she opened her mouth and not only sang beautifully, but threw in a yodel as well that took her to a whole different level of awesome in terms of country singers. She, of course, was snatched up by Blake, despite Adam's desperate plea for her to join his team.
At this point, It seemed like the auditioners were on a roll, but all good must come to an end, and that it did with the entrance of Garrett Gardner. His sad back story about his father who had passed away only made it that much more heart breaking when his version of "Have You Ever Seen the Rain" failed to turn any of the judges' chairs around.
After such a downer of a moment, The Voice turned it around quickly with the introduction of the very pretty Devyn Deloera, who claimed to have been socially awkward as a child (I'm not buying it). Although her rendition of Christina's "Ain't No Other Man" was a bit lack luster for me personally, she still managed to make those chairs turn, earning her a spot on Christina's team.
In a sure fire attempt to show that you shouldn't give up, The Voice brought back last season's Daniel Rosa for a chance to make it through this time around. Still sporting his bow tie and glasses, he offered up a version of "Somebody That I Used to Know" that was sung well enough but a little odd. None the less, the judges' chairs began to turn and before we knew it, Adam was offering up bear hugs and Daniel was giggling to the point of not being able to speak. After a few more hand waves and giggles, Daniel opted for Cee Lo's team.
Next up, Bryan Keith wowed the judges with his rendition of Bruno Mars' "It Will Rain," giving Adam his first pick of the night.  Anita Antoinette and Jessica Sharpe were not so lucky, as they failed to spark any interest in the judges.  Joe Kirkland, on the other hand, won praise from Adam with his version of "Gives you Hell," earning him a spot on the Maroon 5 front man's team.
Last up for the night was Trevin Hunt, who was inspired and encouraged by his father to sing. During his standing ovation worthy performance of Beyonce's "Listen;" Blake, Christina, and Cee Lo all hit their red buttons in approval, leaving Adam as the odd man out, despite Blake shouting at him to join them.  In the end, Trevin chose to join Team Cee Lo, much to the disappointment of the other two judges.
Tonight, the blind auditions continue when several more contestants will sing with the hope of earning a spot on one of the judges' teams.  If you don't watch to see the singers, or as Cee Lo might put it, "sangers," at least tune in to hear more smack talking between Adam Levine and Blake Shelton. It's definitely worth the watch.
The Voice has officially kicked off its third season. Who do you think stood out as someone to watch on last night's auditions? Did anyone get sent home that you wish had stayed? Share your thoughts here.
The Voice airs at 8/7c tonight on NBC