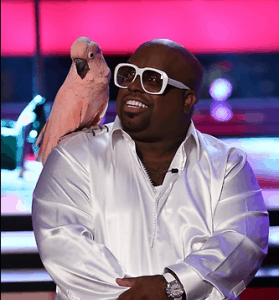 On a night meant to take the wind out of Simon Cowell's sails, The Voice delivered exactly what NBC had hoped for which was high ratings and a loyal fan base. On Twitter, the judges and the network's account could be seen counting down to start of the episode, even offering up Tweets to pump up their audience such as, "I'm watching The Voice because ____." Not exactly subtle, but effective, none the less.
The third night of blind auditions on The Voice proved to be no less entertaining that the other two, with plenty of talent and no shortage of judges' banter. The first contestant of the night was Samuel Mouton whose take on Bob Marley's "Redemption Song" blew the judges away, mostly because of the singing, but you also have to imagine they were not expecting to see a somewhat scrawny white kid in a ball cap standing on the stage when they turned around.  After a good amount of pitching from the judges and even a bit of dirty flirting from Christina, Samuel chose Team Adam as the one for him, finally breaking Adam out of his two team member rut.
Also impressing the judges in last night's auditions, was Nigerian born singer, Nelly's Echo, whose beautiful rendition of "Ain't No Sunshine" had both Christina and Adam spinning in their chairs. Nelly's Echo, who was forced to leave his birthplace due to the dangers his family was facing, opted to join Team Christina, leaving a very pouty Adam to sulk in his seat.
In a first for The Voice, a mother daughter duo known as 2 Steel Girls made it through the blind auditions after impressing Blake with their duet of Carrie Underwood's "Before He Cheats." Also, in a first for The Voice, one of the contestants managed to leave Cee Lo speechless, at least momentarily, with her overt dance moves and extreme personality. As the self proclaimed "Lady Gaga of China," Domo led the audience in a chant of "I say 'Do-,' you say '-mo" which left Christina to tell Cee Lo that he definitely was going to have his hands full.
Last up for the night was Nicole Nelson, a 34 year old singer who lives in a former shoe factory with a group of other musicians. She was quick to admit to being a bit of a hippie and had no problem sharing that her father was not too sure about her pursuing a music career. As Nicole began her song, "Hallelujah," the judges sat poised over their buttons as the audience cheered for the lovely tone of her voice. I'm not sure if they were mesmerized or what, but after what seemed like far too long, all four judges finally turned around, leaving Nicole in a tough spot to choose a team. After a bit of thinking out loud, to which she admitted that she thought for sure she'd choose Blake, Nicole opted to head over to the man who pushed his button first, Adam.
After a three day marathon of blind auditions for The Voice, it's safe to say that the talent certainly seems to be up to par and the judges have not lost any of the chemistry that has made us love them over the last three seasons. Next Monday continues the journey of blind auditions in which the judges will work to fill up their teams with contestants hoping to find The Voice.
Now that the first week of blind auditions are over, who do you think stood out as an early favorite? Share your thoughts and opinions here.
The Voice airs Mondays and Tuesdays at 8/7c on NBC.