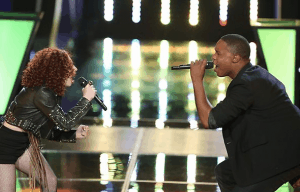 After a great deal of tears, both of joy and sorrow, and a few surprising steals, The Voice finally brought its Battle Rounds to an end last week, leaving each team with only ten contestants to move forward in the competition. This season, however, The Voice has thrown one more twist into the competition: The Knockout Round.
Typically on The Voice, after the Battle Rounds, we can expect to gear up for the live shows, however, this time, the contestants will have to make it through the newly added Knockout Round before getting the chance to go live. During these intense rounds, the contestants will be paired up to compete against a fellow team member, much like in the Battle Rounds, however, the catch is that they will not discover who they are up against until moments before performing. Also, different from the battles, the singers will get to choose their own songs which they feel showcase their talents, all the while, in the dark about who they are trying to outshine.
After the Knockout Round performances, the competing pair's judge will have to choose which one of the contestants to keep and which one to send packing. With no chance for a steal in this stage of the game, the pressure is on more than ever for the singers to give the performance of a lifetime.
The Voice airs Mondays and Tuesdays at 8/7c on NBC.