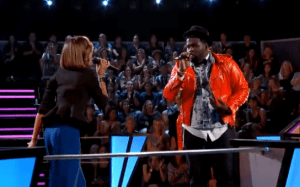 After a long, but exciting month of blind auditions, The Voice finally kicks it into high gear when the battle rounds start tonight.
In Battle Round, each judge must choose two team mates to perform together in a sing off, of sorts, where the contestants must sing to earn their right to stay in the competition. Once the performance is over, the judge must select only one contestant to move on in the competition, leaving the other singer's hopes and dreams crushed in front of all of America. But wait…this season there's more.
New to this season of The Voice is the "steal" option in Battle Round. Once a contestant is ousted, the other judges have the option to steal the singer to their teams, renewing their chances at becoming the next winner of The Voice. With the judges enjoying a bit of healthy competition so very much, this option will most certainly be used and most likely, with a good amount of "rub your nose in it" satisfaction.
As it stands going into tonight, all four teams have 16 members and the judges have two steals each to use during the Battle Rounds, but after tonight's shake up, it could be a whole different ball game by tomorrow.
The Voice airs Mondays and Tuesdays at 8/7c on NBC.