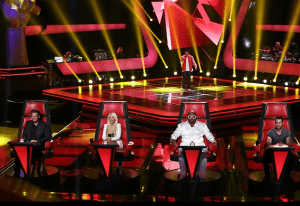 Round two of the blind auditions for The Voice was on NBC last night, which, to viewers meant a fresh new pool of amazing talent, funny and witty banter between the judges, and a boat load of tearful back stories from the contestants.
At this point, I think we all get it. The sadder and more compelling the story, the more likely viewers are to connect with the contestants, but at some point The Voice has got to realize that there is such thing as too much of a good thing.  Night one's sob story about Devyn's social awkwardness and shyness despite her killer good looks and sass in front of the camera was a little hard to swallow, but ok, we'll buy that for now. Night two, however, took the back story to a whole new level with childhood kidnappings and near death experiences, in which The Voice challenged you not to pity these contestants.
First up was Adriana Louise, who told the story of how music helped her get through the trauma of being kidnapped with her family by a group of gang members when she was nine years old. Her version of "Domino" had all four judges hitting their red buttons and begging for her to join their teams. In the end, Adriana went for Team Christina, which resulted in a victory dance from Xtina to rub it in the other judges' faces.
For the next couple of singers, injury was the name of the game that plagued them in their back story. First was country boy Casey Meussigmann (pronounced 'music man'…seriously) whose dreams of competing in wrestling came to a halt when he injured his knee. His rendition of "Sweet Home Alabama" earned him a spot on Blake's team. Next on the injured list was Aquile, who learned to play guitar after a punch to the face required him to have his jaw wired shut. Â As it turns out, "Your Song" was Aquile's song, as it landed him a spot on Christina's team.
Next up on The Voice's stage was Ryan Fogarty, who just so happens to be a roadie for LeAnn Rimes. After some encouragement from Ms. Rimes herself, Ryan decided he was good enough to give The Voice a try.  Apparently Ryan hadn't heard that LeAnn wasn't the best at making wise decisions, because he seemed surprised when he was sent packing after none of the judges were inspired to turn around.
Near death experiences topped the list as one of the most dramatic back stories of the night when Mackenzie Bourg shared that he had contracted a virus two years prior that caused all of his organs to shut down. The 19 year old hipster gave "Pumped Up Kicks" his best shot, which impressed Cee Lo enough to turn around, adding yet another member to his team.
The final performer of the night was Julio Cesar Castillo, a 21 year old who sang mariachi to help provide for his family.  Julio took the stage and without hesitation began to belt out "La Bamba" with a crystal clear tone and perfect rhythm that had all the judges dancing in their seats. In the end, only Cee Lo and Blake committed to pressing their buttons and Julio, surprisingly, went with The Voice's resident country boy, Blake.
Tonight marks the third and final night of premieres this week for The Voice. Will we be treated to more teenage tears and tales of triumph? Will Adam finally add more than two people to his team? All these questions and more will be answered tonight at 8/7c on NBC.