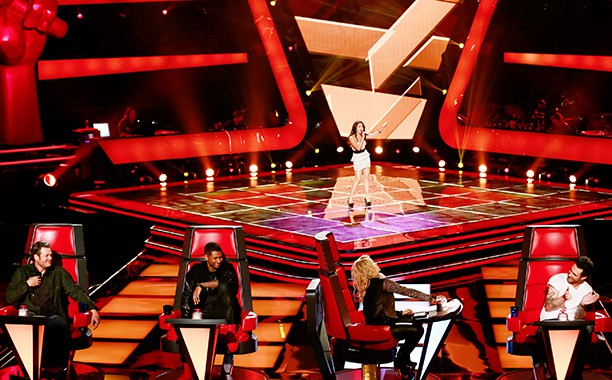 With reality competition shows like The Voice, it seems like the judging panel, or um… coaches, can be as big a factor for the viewers as the competitors. Â If not MORE of a factor. Â Just look at how American Idol has languished with big shake up this season. Â The Voice, on the other hand, replaced two of its most popular judges, Christina Aguilera and Cee Lo Green, with newcomers Shakira and Usher,and came out on top. Â So far, Â The Voice has maintained ratings steadiness since its premiere with the new panel, while American Idol's caustic combo continues to wither on the vine.
Note: Â Cee Lo and Christina will be back in future seasons of The Voice, they are just taking a break.
The Voice came in #2 for the night on Monday with around 13Million live viewers and a 4.9 rating in the 18-49 year old television viewer demo. Â Big time NCAA action was taking most of the oxygen out of the prime-time space otherwise The Voice would have easily come in number one.
Elsewhere, Voice did little to help Revolution fend off the b-ball action, but NBC's post apocalyptic fantasy is still holding its own. Â Dancing With the Stars was the other major live viewer winner outside of NCAA coverage bringing in roughly 13M viewers, but landed #8 in demographic rankings.
Full chart:
 ADULT DEMO RANK
ADULTS 18-49 RATING
TOTAL VIEWERS (000)
FOX
8-9P
BONES
R
#10
1.1
4,280
9-10P
FOLLOWING-FOX
#7
2.2
6,207
ABC
8-10P
DANCNG STARS
#8
2.0
12,943
10-11P
CASTLE
R
#9
1.3
7,355
CBS
8:00P
2 BROKE-GIRLS
RS
#5
2.7
9,108
8:30P
BIG BANG THEORY
RS
#4
3.3
10,505
9:00P
PRELUDE-NCAA
S
#3
4.4
13,616
930-11P
NCAA BB
S
#1
7.5
20,709
NBC
8-10P
VOICE
#2
4.9
13,673
10-11P
REVOLUTION
#6
2.3
6,317
CW
8-9P
CARRIE DIARIES
#11
0.4
1,070
9-10P
HART-DIXIE
R
#12
0.2
524