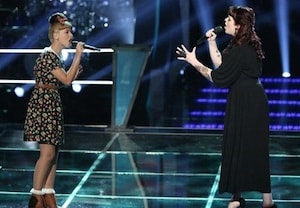 The battles continued tonight on The Voice with several more contestants coming out victorious and moving on to the next round. Â With so many excellent performances and the added anticipation of the steal this season, the Battle Rounds have certainly turned up the excitement a notch from the blind audtions.
Starting off the night was CeeLo, who decided to pair Domo, who you'll remember from the "I say Do-, you say mo-" chant she led at her blind auditions, with Cody Belew, the expletive laden country boy who managed to snag a spot on CeeLo's team at the last minute in his blind audition.  The first thing that came to mind when I saw this pairing was…what? Although an unlikely duo, with the overly confident hip hop dancer and self proclaimed "Lady Gaga of China" paired up with the likable country boy, they managed to pull off an entertaining and choreography heavy performance that left CeeLo uncertain if they took the vocals as seriously as they took the dance moves. In the end, his "personal preference" led him to choose Cody, I'm sure much to team advisor Rob Thomas' relief, since he seemed utterly annoyed by Domo.
Next up on The Voice stage were Team Christina representatives Nathalie Hernandez and Aquile with James Morrison's "You Give Me Something." Aquile immediately seemed to have it together, while the fifteen year old Nathalie struggled a bit with bringing the depth of emotion necessary in the song. When it came time to battle, Aquile clearly had the experience necessary to give him the edge, and although Nathalie delivered a beautiful performance that was Nora Jones-esque, it was just not quite enough to get her to the next round. On a side note — is it just me or is Billie Joe Armstrong, Team Xtina's advisor, the most positive person in the world? After last night's declaration of "this could be the best song in the competition," he delivered another gem of positivity tonight with "I think that was better than the original." I'm just saying that I would never have expected the lead singer of Green Day to be so wide eyed and optimistic.
In the midst of these major battles, we are given a brief montage of other battles that apparently didn't warrant airing to their full extent. Team Christina picks up another team member after a battle between Celica Westbrook and Lisa Scinta leaves her with a clear favorite in Celica. Team Blake paired up smog mechanic and likable guy Charlie Rey with 40-something single dad Rudy Parris and, in the end, Charlie's nerves undid him, leaving Rudy the one moving on to the Knockout Round.
Ending night two of the battles was Team Adam with Caitlin Michele, the girl with severe anxiety, paired with Melanie Martinez, the little girl with two toned hair and a giant bow. Although Adam seemed blatantly irritated by the girls at their rehearsal, claiming that they were just "dialing it in," they did not disappoint on performance night with a haunting rendition of "Lights" that left everyone impressed. After a lot of deliberation, Adam went with Melanie to move forward in the next round; however, both CeeLo and Blake opted to exercise their steal option. Without much hesitation, Caitlin shot down Blake a second time around this competition and chose to join Team CeeLo.
Next week, the battles heat up with the judges more anxious than ever to steal the best of the best for their teams. Who will make it to the Knockout rounds and who will be sent packing? It looks like we have a long week of waiting in order to find out.
The Voice airs Mondays and Tuesday at 8/7c on NBC.