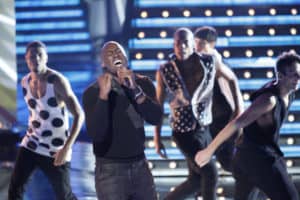 A suspenseful and very sad night for The Voice as Christina Aguilera, Cell Lo Green, Adam Levine, and Blake Shelton were forced to each send two members of their team home.  So let's assess the damage from tonight's The Voice.
Team Adam Levine

The Voice viewers voted and Amanda Brown and Bryan Keith came out on top, which naturally puts them in the Top 12.  That left Adam to choose between Loren Allred, Joselyn Rivera, and Melanie Martinez.  Surprising no-one, I'm sure, Adam decided to save Melanie, leaving Loren and Joselyn out of the competition.
Team Blake Shelton
Terry McDermott and Cassadee Pope were the members of Team Blake that The Voice viewers decided they wanted to keep, Blake Shelton himself chose Michaela Paige sending Liz Davis and Julio Cesar Castillo packing.  This might have been a surprise to some people.
Team Christina Aguilera
Dez Duron and the diva herself Sylvia Yacoub get a free pass thanks to America's votes, leaving Xtina to choose from De'borah, Devyn DeLoera, and Adrianna Louise.  Strangely, Christina chooses to save Adriana on the grounds that she should have a chance to show what she can 'really' do.  Tactical error in my book.
Team Cee Lo
Cee Lo's guy heavy team gets anchored by future teen idol Trevin Hunte and soul singer Nicholas David when America's votes are revealed, leaving Cee Lo to choose between Cody Belew, MacKenzie Bourg, and Diego Val.  Cee Lo decides to keep Cody, who he sees as someone who consistently improves from week to week.
Final 12
Amanda Brown
Bryan Keith
Melanie Martinez
Terry McDermott
Michaela Paige
Dez Duron
Sylvia Yacoub
Adriana Louise
Trevin Hunte
Nicholas David
Cody Belew
If you'd like to peruse some photos from tonight's The Voice