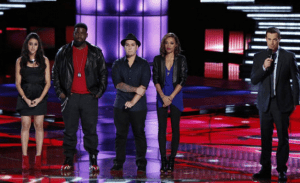 Last night on The Voice live results show, the viewers' votes were revealed, which left the bottom two contestants eliminated from the competition. Sylvia Yacoub, from Team Christina and Bryan Keith, from Team Adam were the two to say good bye last night, who some might argue were not the right choice.
On Monday night, Sylvia continued to choose powerful diva inspired songs with Alicia Keys' "Girl on Fire" as the selection for night. Having stuck to a similar chord most of her other performances, it's likely that viewers may have begun to consider her a "one trick pony," as Christina has put it in the past, and become bored. As for Bryan, until last week, he had somewhat flown under the radar, but with his performances starting to make viewers take notice, it is likely that last night's luke warm version of Billy Joel's "New York State of Mind" was too melancholy and not exciting enough to evoke the votes to keep him in the competition.
Sylvia and Bryan's exits from the competition last night shook up the teams a bit, taking Team Xtina's hopes of winning The Voice down to her only remaining contender, Dez Duron. Team Adam, however, remains strong with powerhouse Amanda Brown and Melanie Martinez still in tow.
Next week, the remaining 8 contestants return to battle it out in hopes of staying in the competition and becoming the next winner of The Voice.
Do you think the right people were eliminated from the show last night? Who do you want to see go home next week? Share your thoughts and opinions here.
The Voice airs Mondays and Tuesdays at 8/7c on NBC.