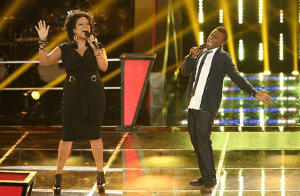 Last night on The Voice, the contestants came out swinging for the last week of battles, leaving the judges with some very difficult decisions. Despite the fact that the episode was cut short due to the Presidential debate, last night still felt jam packed and I hardly noticed that I was jipped of any hour, that is, except for the lumped together packages of winners whose performances we didn't get to see.
Team CeeLo kicked off the evening with Alexis Marceaux, the classically trained librarian looking singer, and second timer Daniel Rosa. For their performance, CeeLo had selected Adam Lambert's "Whataya Want From Me," a song that made Daniel visibly nervous due to the higher notes required to pull off a winning performance.  Although Alexis was warned not to go crazy with her diction, she still seemed to take a bit of silent glee each time Daniel faltered during practice.  When it came down to battle time, I truly believe that Alexis might have out sang Daniel, but in the end, CeeLo stayed sentimental and went with returning contestant Daniel (one of the few times I'm glad the better performer did not win).
Next up on The Voice stage were Team Adam representatives Brandon Mahone, the teenager with a pure voice, and Nicole Nelson, the self proclaimed hippie from Vermont. For the duo's song, Adam went with a bit of a throwback, choosing "Ain't No Mountain High Enough" for their performance. When it came right down to it at battle time, they both sang their faces off, with Brandon putting a lot of emotion and spunk into his performance, while Nicole delivered a very controlled powerhouse version. For one of the first times during the whole competition, I was unsure of whom I was rooting for, but in the end, Adam made my decision for me, declaring Nicole the winner. Brandon, whom even Adam said should have moved on in the competition, was sent home without a steal (what's wrong with you judges?).
The final full battle that viewers were treated to last night was from Team Xtina, for whom Christina paired Devyn Deloera, the Texan who took on Ms. Aguilera's song during her blind audition, and MarissaAnn, the fifteen year old powerhouse from Long Island. In one of the most brilliant song choices of all times for a battle round, Christina chose "Free Your Mind" for these ladies to duke it out on.  When it came to go time, the singers held nothing back with amazing notes, impressive harmonies, and entertaining stage presence. When it came down to it, Christina went with the slightly more seasoned singer, naming Devyn the winner. Thankfully, however, Blake jumped in with the steal (!) and snatched up MarissaAnn for his team.
Although these were the only battles seen in full last night, we were treated (eye roll) to another package of clips from other battles and their outcomes. Team Adam apparently had two additional battles featuring Brian Scartocci versus Loren Allred with Loren coming out on top, and Joe Kirkland versus Samuel Mouton with Joe being declared the winner. Blake also fell victim to the "quickie" battle with his duo Ryan Jirovec and Cassadee Pope in which the former lead singer of Hello Monday, Cassadee, was victorious.
After all the dust settled last night on The Voice, Team Adam was officially filled to capacity. Christina goes into tonight as the only team left with a steal up her sleeve, giving her a definite advantage for the night. Tonight marks the final battles in which the fates of the contestants and teams will be decided before heading into next week's Knockout Round.
The Voice airs Mondays and Tuesdays at 8/7c on NBC.