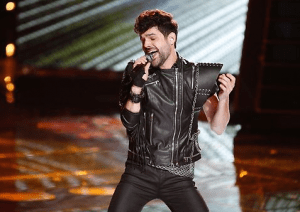 Last night on The Voice, the top 10 took the stage and delivered what, according to Blake Shelton, might be "the best episode of The Voice [they've] ever had." That might be taking it a bit far, Mr. Shelton, but I'll definitely give you that the contestants brought it last night.
Team Christina kicked off the night with powerhouse Sylvia Yacoub delivering a strong, if not awe inspiring rendition of Alicia Keyes' "Girl on Fire." While she can, without a doubt, sing her head off, it seems that she might be falling into that trap where her powerful and loud belting of songs becomes ironically boring. I preferred her a hundred times more when she sat at the piano and sang a more tender version of "The One That Got Away" two weeks ago. Also representing Team Xtina last night was Dez, who gave "Feeling Good" his best shot, which in turn, was just okay.
Second out of the gate last night was Terry McDermott from Team Blake who took on Bryan Adam's classic "Summer of 69." Just as we might have expected, he sang it perfectly, nailing even the higher more difficult notes, but unfortunately for Terry, that song lacks any real standout moments, leaving his performance impressive but not exciting. In a bit of a sentimental twist last night, Blake announced that team member, Cassadee Pope, was going to be singing "Over You," the song that he had written with his wife, Miranda Lambert, for his late brother. Thankfully, Cassadee delivered a very moving performance that left Blake standing at the end, therefore avoiding what could have been a very awkward moment.
Team Adam, one of only two teams left with all three finalists, brought it last night, starting off with Melanie Martinez's delivery of the White Stripes' "Seven Nation Army." Now, I've criticized this girl in the past for seeming contrived and for trying to oversell the whispery voice thing she has going on, but I have to say that last night, she actually gave it a little more 'oomph' and delivered an enjoyable and believable performance. Bryan Keith kept his momentum going with another great performance in which he took on Billy Joel's "New York State of Mind."  Amanda Brown, after last week's disastrous attempt at Florence and the Machine, proved that she could be the comeback kid with such a strong performance of Grace Potter and the Nocturnals' "Stars" that, even though hardly any of the coaches had ever even heard of the song, they still liked it and dubbed it "incredible."
Oh, Cody. While we love you for your fun and quirky personality, did you have to go so far last night? First to represent Team Cee Lo for the night was Cody Belew who decided to channel his inner Beyonce and sing "Crazy in Love," complete with a head to toe leather outfit that was either supposed to be a bit of a sassy biker or S & M soldier. Even though I enjoy his antics and believe him to be very talented, Cody may have put the nail in his own coffin for tonight with such an out there performance. Nicholas, on the other hand, knocked the coaches off their feet after delivering a silky smooth rendition of "Lean on Me" that left Cee Lo with tears in his eyes. Tevin Hunte also did not disappoint last night, opting to step out of his ballad comfort zone with Usher's "Scream." In the end, the risk paid off big time, leaving the audience screaming and again, Cee Lo having to dry his eyes.
The top 10 remaining contestants were not messing around with last night's performances, having left multiple coaches in tears and evoking screams from the audience, but regardless of how they all did, two of the singers will be saying good bye to The Voice tonight when the live results are revealed.
The Voice airs Mondays and Tuesdays at 8/7c on NBC.