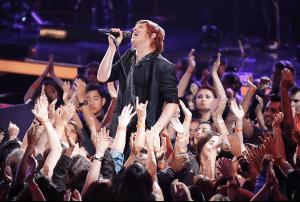 Last week on The Voice we said goodbye to Cody Belew and Dez Duron, taking the total remaining contestants down to only six. With this week's performances determining whether or not the singers make it into the quarterfinals, the pressure is higher than ever.
Heading into tonight's performances, Team Blake and Team Cee Lo seem to stand the strongest, each with two fairly big players left on their teams.  On Blake's team, fan favorite Terry McDermott is still hanging in there, while Cassadee Pope continues to actually gain momentum each week. Cee Lo is holding on to arguably two of the biggest contenders in this competition with quirky throwback singer Nicholas David and the shy, yet uber-talented Trevin Hunte.
Team Adam is still in the game going into tonight as well, with Amanda Brown and Melanie Martinez still in the running.  Amanda, who looked to be a front runner early on, has shown herself to be a bit vulnerable when it comes to the viewers' votes and isn't always consistent. Melanie, on the other hand, seems to be just about the same each week, which is only good if you are wowing the crowd. At this point, she seems to mostly be wowing her coach, Adam, and just peaking a mild interest in the audience.
Completely out of the competition for this season of The Voice is Team Christina, whose final contender was voted off last week. Christina, who seems to have strong opinions regarding most everything, should be freed up to blast away on her criticisms now that she's got nothing to lose as the final 6 contestants perform tonight in order to earn their way into next week's quarterfinals.
The Voice airs Mondays and Tuesdays at 8/7c on NBC.