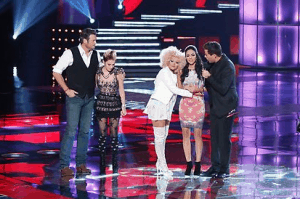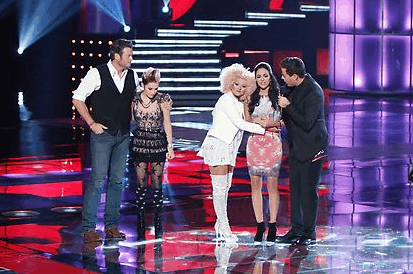 Last week on The Voice, viewers sent Team Christina's Adriana Louise and Team Blake's Michaela Paige home packing after a live results show that landed them in the bottom two. Tonight, the remaining 10 contestants will perform in order to avoid meeting a similar fate and to continue on in the competition.
Although it wasn't a big surprise that Adriana headed home since, even her coach, Christina, had seemed less than confident that she would be sticking around, it was still a little sad to see her go since she had actually performed well the night before. Michaela, on the other hand, had, at one point, seemed like a bit of front runner with her powerful and spot on performances that left coach Blake Shelton declaring that he "loved this girl." Apparently, viewers did not feel the same love, however, because despite an okay, if not awe inspiring performance last Monday, Michaela joined Adriana to be sent home.
After last week's not surprising, but telling eliminations, the remaining contestants must be feeling the pressure to put forth a top notch performance each week knowing that one slip up or even slightly unlikable rendition of a song, could put an end to their time on The Voice. With all the power in the hands of the viewers, the contestants will be working harder than ever to convince the audience that they deserve to stay in the competition and continue on for a chance to become the next winner of The Voice.
The Voice airs Mondays and Tuesdays at 8/7c on NBC.