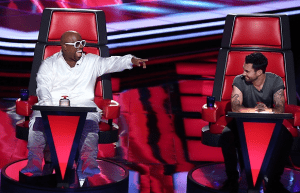 Tonight marks the start of NBC's first ever fall season of The Voice, putting it head to head with Fox's The X Factor which is also set to begin this week.  Don't expect producer Mark Burnett to be worried about the competition, however, since he's used to going up against heavy hitter American Idol when The Voice typically airs in the winter. According to him, he hasn't even really thought about it.
Besides the new fall start, The Voice is getting a bit of a makeover in a few other areas as well.  Unlike the other reality talent competitions, however, The Voice will maintain its original four judges: Adam Levine, Cee Lo Green, Christina Aguilera, and Blake Shelton.  This time around, the judges will have the opportunity to steal their fellow judges' team members after they are eliminated from the battle round. The theory behind this change is that it will allow the sometimes lost talent that slips through the cracks to stick around a bit longer.
Also new to this season of The Voice, a "knockout" round has been added after the battle rounds in which the judges will have to whittle their teams down from ten to five. The five contestants on each team will then head to the live shows, which are due to start at the end of October.
In seasons past, The Voice has welcomed various celebrity mentors to the show and this season is no different, with Mark Burnett sparing no expense in bringing quality super stars to mentor the show's contestants.  Michael Buble (my personal favorite choice), Rob Thomas of Matchbox Twenty, Mary J. Blige, and Billie Joe Armstrong of Green Day are the super talents that will be lending their expertise to The Voice this time around.
Season three of The Voice kicks off tonight with the first in a three part premiere set to air through Wednesday. With two new judges, the curiosity factor seems as though it would work to The X Factor's benefit, but The Voice is tried and true. Which do you think will come out on top for this mega week of premieres? Share your thoughts and opinions on The Voice's forum.
The Voice premieres tonight at 8/7c on NBC.