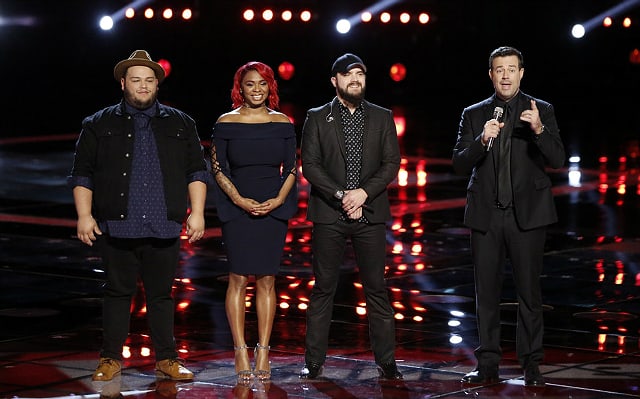 The Voice season 11 semi-final results aren't remotely as important as a presidential election.  However, with the energy of the recent election it certainly does feel like art is imitating life.  The parallel? It's the mechanics of the Instant Save and the Electoral College vote.
Last Monday night "America" voted for their top four artists.   However, the "popular vote" for that fourth slot gets thrown out on Tuesday.
Instead, the fourth slot is decided by a small group of people in the eastern and central part of the country that use Twitter. The result is that Team Adam's Josh Gallagher got the slot over Team Miley's Ali Caldwell – knocking her and her coach Miley Cyrus out of the finals.Subsequently, a petition to demanding a recount hit my twitter feed, along with tweets complaining about Ali's name being the only one that trended.  Honestly,  I couldn't help but feel that the presidential election really has turned us all a bit nuts.
Granted, I wasn't exactly thrilled by Ali's loss either.
I STILL have chills from @iamAliCaldwell instant save song! #TheVoice

— Beckstle (@Beckstle) December 7, 2016
1. She's awesome. 2. Two guys & two gals is a perfect finale for #TheVoice – #VoicesaveAli

— Beckstle (@Beckstle) December 7, 2016
That's not to say I don't like Josh. I predicted early on that Blake Shelton would regret letting him go.  His voice isn't the purest, but something about his laid back vocal style reminds me of  Willie Nelson or even a little bit of Kenny Rogers.
At the same time, I also thought Christian was great, and Brendan had just finally started to come into his own.   Honestly, this has been one of the most talented groups of contestants the show has had.  It was going to be a hard call.
What's really hard about The Voice season 11 semi-final results is that losing four singers in one night was not fun television.  We already had the trauma of losing eight in a night when the twenty dropped down to twelve.  It really felt like the show needed one more week of lives before going into the semi-finals – which is something fans have mentioned before over the last couple of seasons.
Adding to the night's angst was that this season the results of the Instant Save have felt particularly off from the overnight voting.  We've had three weeks of Aaron Gibson being on the bottom, only be "saved" by America.  It's made many suspicious of the process.  Especially since the somewhat reliable  use of iTunes as a predictor have been little help in figuring out who's on the bottom.  For instance We' McDonald (and we love We') wasn't in the top 10 for iTunes, but Josh was.  We' made the top 3 cut. Josh, along with Ali and Christian, had to participate in the Instant Save performances.
The Voice Season 11 Semi-final Instant Save Performances
Ali Caldwell – "Sledgehammer" by Rihanna
[youtube https://www.youtube.com/watch?v=P9QsyeCQTMM?rel=0]
Like I said, she knocked the song out the park!
Christian Cuevas – "I Can't Make You Love Me" by Bonnie Rait
[youtube https://www.youtube.com/watch?v=0W1g4skfhH0?rel=0]
Honestly, if Christian had won, there would have been less flack.  He and Josh were both in the top ten on iTunes, but it was Christian's second time in row for top ten. It would seem he's developed a stronger following.  He and Ali are both vocally strong, and his emotional deliveries are always consistent. It would have been more believable.
Josh Gallagher – "I Drive Your Truck" by Brice Gallagher
[youtube https://www.youtube.com/watch?v=mAUnMk_Wj9A?rel=0]
Josh's performance was solid and had some of the emotional resonance that he had on his last one.  However, when laid next to Ali's and Christian's work the vocal quality of his voice simply isn't isn't as strong.  His coach Adam Levine championed Josh by saying this was a reason he should stay.
I just want there to be something different in this finale.  There are a lot of powerhouses out there, but this guy has been getting better and better, charting higher, everyone loves you (Josh). I just feel you (Josh) have so much more to give that people haven't seen yet.
Obviously this pitch must have helped, although I for one have never been a fan of rewarding people's potential over a proven performer.  The situation is a bit like making the valedictorian the person who's grade point average has most improved instead of who's carried the highest average over their high school years.
Ali has consistently placed as "safe" – even when she wasn't on the iTunes top 100.  It suggests that a ton of people have been consistently voting for her – the same way they've been voting for We'.   She placed at number 15 on iTunes, her highest to date.  The fact that Josh and Christian were in the top five on iTunes – ahead of We' – and yet they were still in the bottom three makes it seem likely that Ali was in fourth place.  Of course, we'll never know who was really the fourth pick of the full voting audience.  Also, much like the election, the rules are the rules.  The popular vote is irrelevant.  It's all about the Instant Save.
The Instant Save Issues
This instant save gimmick has been around for a few seasons now.  It started in season five and was seen as a way to engage viewers on social media in real time.  In fact, The Voice won a Shorty Award for its use of twitter during the show:
During Season Five, The Voice introduced its latest social innovation: The Voice Instant Save, a fully realized TV/Social integration that empowered fans to significantly impact the on-air show by using social. In earlier seasons only Coaches had the ability to save a contestant from elimination, but with Instant Save now America could have its say by activating on Twitter.
In otherwords, there is much about the Instant Save that is cool.  What's misleading is the idea that "America" has its say in the voting. Even when it started in season 5, Entertainment Weekly noted that because of  the time zone issues mountain and pacific time had a "disadvantage."  The only way they could know when to vote was to " have their eyes glued to twitter." during the show's eastern standard time airing. However, there's more at issue than just that.
When Aaron Gibson survived yet another surprising Instant Save, I broke down just how limiting this gimmick is. That full explanation can be read here.   This is the short version. Because of the popularity of some music in certain time zones the Instant Save favors certain kinds of singers.   Also, regardless of where they are, less people can participate in the instant save voting because Twitter is a much smaller segment of the viewing audience.  [For example, in that first year, the number of tweets over four Instant Save episodes was 3.5 million (Shorty awards).  The number of viewers during those segments averaged about 11.5 million an episode (The Voice season 5)]
These issues around the Instant Save have been around since season 5.   Yet, this season the complaining about it has been heightened – perhaps because of how the initial live show cuts had to be done.  Because of the election, the top 20 went down to the top 12 in one night. The format was like a massive set of instant saves – with all the pitfalls that entails in terms of time zones – only you could use the app as well.  This resulting in the mountain and pacific time zone viewers having to sit with not being able to really participate in saving their artists going all the way back to the top 20.
The Voice Season 11 Semi-final Results – The Wrap Up
Now, it's entirely possible that the popular vote and the instant save twitter votes actually matched up.  As mentioned earlier, we'll never know would had the original fourth place spot.  What every Instant Save tends to do is call into question if that person really is the audience favorite.  There's also the fact that this is reality TV and, as we learned in 2014 The Voice contracts allow for all kinds of manipulations – including ignoring the voting results if there were "problems."
Truthfully though, after 11 seasons, what's great about The Voice has little to do with who actually wins it.  Mostly it's about discovering interesting singers and watching the coaches interact.  There are a number of singers on from The Voice whose music is on mine and many other's playlists.  They may not be big recording stars (yet), but they release iTunes singles and play venues around the country.  I certainly will be following Ali and  several other singers from this season long after The Voice season 11 ends.
As for the Instant Save issues – one thing The Voice might want to consider is not using it for the semi-finals and just let the overnight vote stand.  That at least would avoid all this wondering about the results.  On the other hand, how important is it?  If I thought being in the top four vs the top eight was going to make a serious difference for their careers I might be more upset.  Nothing over the last 10 seasons suggests that it will.