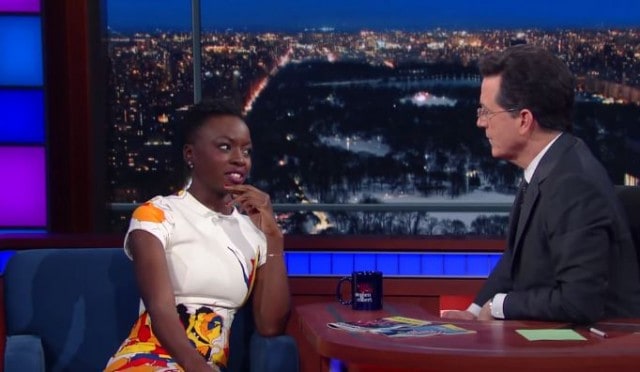 The Walking Dead's Danai Gurira stopped by The Late Show With Stephen Colbert last night to talk about the AMC series and her two plays, Eclipsed and Familiar. However, before she and Colbert had a lengthy discussion about the plays, which are both running in New York right now, their conversation, of course, turned to the zombie genre and its immense popularity right now.
From The Walking Dead to iZombie to Pride and Prejudice and Zombies, there's no shortage of zombie stories being told on both the big and small screens. However, the majority of these shows and films aren't just about the zombies; instead, they use the undead as a means of telling a greater, richer story.
"The thing about [The Walking Dead], as people have said and I think you yourself have said, it's not really about a zombie apocalypse," Colbert said to Gurira. "It's about the human condition with the backdrop of a zombie apocalypse. Why do you think zombie apocalypses are such popular backdrops now, though? What do you think that says about the human condition that the idea that your friends could turn on you at any moment and you'd have to kill them is like a popular thing in our culture right now?"
To find out Gurira's answer, check out the video of her and Colbert below, and be sure to watch her as Michonne on The Walking Dead on Sundays at 9 p.m. on AMC.
[Photo via YouTube]