Brace yourselves, fans of The Walking Dead! Rick Grimes and his merry band of apocalyptic survivors are about to be…governed. Or, at least that's how someone unfamiliar to The Walking Dead comics might see it!
AMC just dropped a major announcement that British actor David Morrissey has been cast to join The Walking Dead's third season in the role of 'The Governor,'which fans of the Image comics know to be a villainous menace that terrorizes Rick Grimes and the other survivors through a major arc. The Governor is the leader of another group of survivors located in Woodbury, who becomes the chief antagonist for Rick and the others as they set up shop in a nearby prison, at least in the comics.
According to the announcement, The Governor will appear in the start of The Walking Dead's 16-episode third season, which is set to begin production this spring in Atlanta. Nominated for the BAFTA award, David Morrissey is best remembered for his appearances in acclaimed British series such as State of Play, and Meadowlands, along with feature films The Reaping, The Other Boleyn Girl, and Blitz. Earlier reports had pegged actor John Hawkes for the coveted role of The Governor, and horror movie FX legend Tom Savini had publicly lobbied for the part.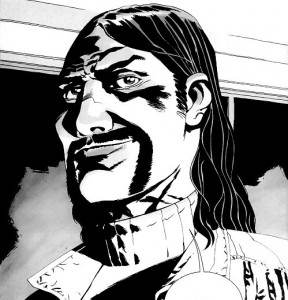 For those keeping up with the current The Walking Dead episodes airing Sunday nights on AMC, Rick (Andrew Lincoln) and the other survivors on Hershel's farm have recently come into contact with members of another camp of survivors more intent on harm than cooperation, though no indication has yet been given that the hostiles belong to Woodbury, or operate under the leadership of The Governor.
The appearance of Robert Kirkman's comic character The Governor has long been a hotly debated subject for the cast and crew of AMC's The Walking Dead, who have teased the character's eventual appearance since the beginning of season two. With the character now set to appear, can fans of the comic expect other announcements regarding a prison-like change of scenery for The Walking Dead season three, or maybe even a certain katana-wielding survivor Michonne?
Stay tuned for further announcements on The Walking Dead, and in the meantime keep up your comic book knowledge with our in-depth comic-to-TV comparisons of The Walking Dead!