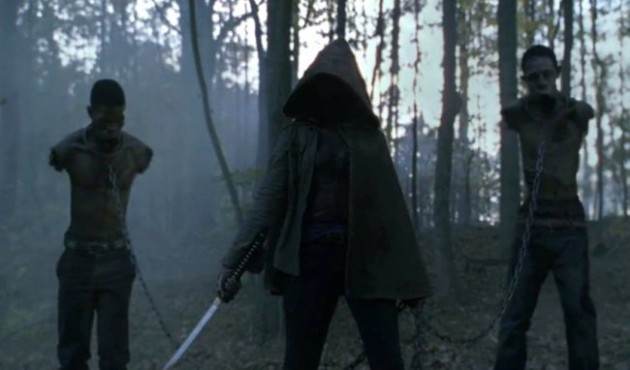 In the wake of The Walking Dead's epic Season 2 Finale AMC has released a behind the scenes video of the cast and crew discussing what is to come in Season 3. Spoilers? Not really, since most of the discussion alludes to happenings in the Graphic Novel of the same name, which has not proven to be a good resource for peeking into the future of the TV series.
The appearance of Michonne with her zombie 'friends' and that glimpse at the prison was a bit surreal in terms of what we've seen this year on The Walking Dead. It was thought that budget cuts were responsible for the zombie-lite second season of The Walking Dead and it's down home country story sensibilities. The appearance Michonne's hooded silhouette flanked by two armless zombies, and the distant image of the Graphic Novel's "West Central Prison" promise more complicated set pieces and darker and more stylized characters. It would be very difficult to pull that off on a scaled down budget.
From the sounds of things in this video, though, it seems like the intent is not to scale things down at all. The Walking Dead's cast and crew seem determined to bring the awesome next season. Perhaps The Walking Dead's continued success throughout its second season has caused AMC to loosen the purse strings a bit. If season two of The Walking Dead has proven anything it is that the writer's room doesn't need a concept driven setting to pull off intricate plots and engaging character conflict. If they can maintain the quality of drama they served up in season two and combine it with some very concept driven locales and characters, Season 3 of The Walking Dead could easily wind up being the most epic so far.