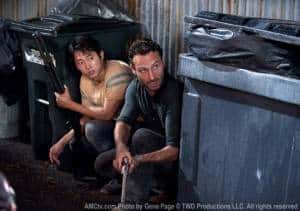 Sunday's episode of The Walking Dead introduced us to the possibility of a new group of survivors near Hershel's farm. Those survivors weren't very friendly; it was Rick's fast draw that kept them from killing himself, Glenn, and Hershel. But those survivors have friends — violent friends — who will be looking for their friends in episode 209, "Triggerfinger."
The promo that aired after "Nebraska" last night reveals a shootout happening at the bar, with Rick promising the aggressors that things aren't going to end well. The promo also reveals tensions growing between Daryl and Carol, a conversation between Shane and Andrea, and a walker attacking an unfortunately still-alive Lori in her overturned car. The promo is action-packed; it looks like new showrunner Glenn Mazzara wasn't lying when he said the show was going to be more fraught with tension in the season's second half.
The sneak peek scene released for "Triggerfinger" focuses on a conversation between Shane and Andrea, in which she tells him that she agrees with his decisions but not his methods. Shane doesn't seem to be buying it, but things turn interesting when it's revealed that the survivors of the barn have someone hostage — and that Rick is preparing to let them go free, which will undoubtedly lead to a war for the farm. It seems likely that this hostage is someone taken during the shootout; it might even be Dave (Michael Raymond-James), whose death was never established quite as concretely as his friend Tony's.
Check out the promo and the sneak peek below, and watch The Walking Dead Sunday night at 9/8c on AMC.