There seems to be a strange logic behind the grouping of promo pics that AMC chooses, and you have to wonder if these two pics from The Walking Dead 3.06 might be forecasting a collision between a fan favorite and one of The Walking Dead's most compelling human bad guys.  Or maybe they just want us to think that?
As you can see in this clip from The Walking Dead,  Glenn tells the group he is going to go on a run for Ammo.  We still don't know exactly where The Prison is with regards to Woodbury, but the area around The Prison has been picked clean, so Glenn's supply run will probably be some distance out.

In this first promo pic from the episode, we see Glenn, gun in hand, seemingly catching sight of someone out of frame:
In the second promo pic from The Walking Dead we see Merle in the wild pointing his gun menacingly at … someone.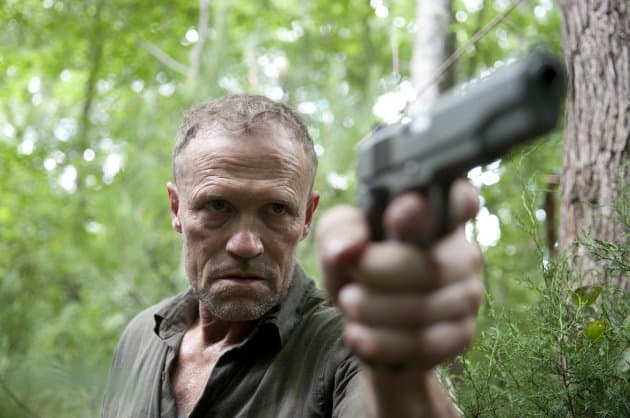 It wouldn't be a huge stretch to think that The Prison folk and Woodbury will clash eventually, but in this case I think there is an even more likely scenario:  Glenn is engaged in another of The Walking Dead's signature foraging adventures, while Merle is recapturing Michonne.
The Governor is clearly more interested in Michonne then he is Andrea at this point, since she was able to successfully domesticate not just one but two zombies.  If you've read the comics, you might have a sense of where this is all going, but then again The Walking Dead has been playing pretty fast and loose with the comic's mythology.
Then there is this promo:
http://youtu.be/vFihX_NIOxQ
If you look close at that last frame…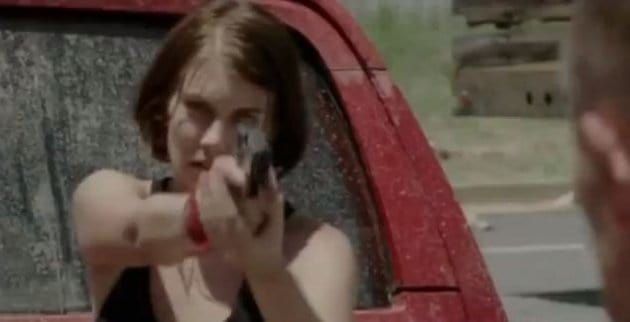 That looks a lot like Merle that Maggie is pulling on there.  World's colliding?  We can only hope.