After last night's "The Suicide King" I'm sure most Walking Dead fans are interested to know the fate of two characters:  Daryl Dixon, and Michonne.  Daryl is on the road with Merle, and from the looks of recent sneak peeks already trying to convince Merle to join The Prison and play nice.  The brothers obviously know how to survive, and Daryl surely knows what to expect from his maligned older brother, but in the year they've spent apart they've both formed new allegiances that continue to guide them: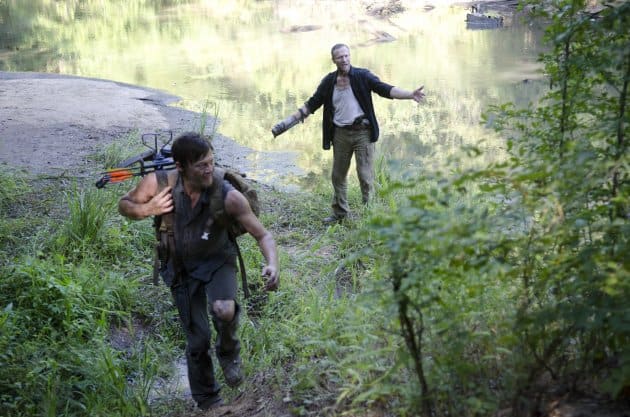 Daryl has been tempered by Rick and his Company of weary travelers to become a team player, while Merle has served as an instrument of The Governors surreptitiously totalitarian rule, a one man wet works in the Gov's private CIA.
Michonne is in deep danger of being ejected from The Prison.  Rick's distrust of 'others' has blossomed into full fledged paranoia and he is determined that Michonne was working against the group in Woodbury, even though in reality she was the only one seizing the opportunity to put an end to The Governors madness, which could wind up costing them even more as time goes on.
The pro pics do address both of these issues.  First of all, we will obviously see some of the Brothers Dixon, so that is a major relief.  Next, it appears that there is a change in the Michonne / Rick relationship one way or another, because both of them have taken up Bushmasters.  I think it is safe to assume that Rick has an epiphany and adopts Tyreese and his crew as well as Michonne since The Prison badly needs soldiers right now, but as we saw at the end of "The Suicide King", Rick is always one ghostly vision away from a full fledged mental break down.
With regards to the war itself,  Glen Mazzara dropped a bombshell concerning just when we could expect to see The Governor retaliate in his discussion with TVGuide. "One of the things I'm really excited about is that Rick's group realizes that they have poked a tiger, and they are waiting for The Governor to retaliate. They have to decide what to do. Do they now strike first? Do they wait for that retaliation? We are, of course, building to big, kickass finale, but The Governor acts quickly, so I don't think fans will have to wait too long before blood is spilled."
The trailers would seem to mimic this with scenes of The Governor opening firing with an automatic rifle and the streets of Woodbury looking like a post apocalyptic hurricane had come through.  We also know from the previews that Andrea comes to The Prison, apparently to mediate.  I say apparently because last night we got a view of the citizens of Woodbury as people with a lingering community spirit who, like everyone else in this crazy world, find themselves turning the other cheek to the madness of those who provide protection.  When the protection is in doubt, they become vulnerable just like everyone else.  Truly comfort seeking serfs in a kingdom of fear and grotesque dangers.
Check out the photos!