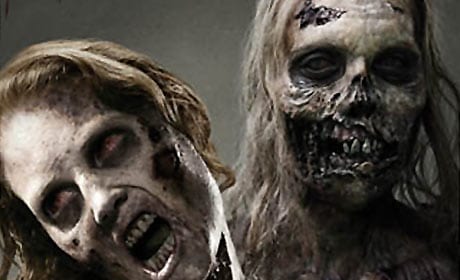 AMC's The Walking Dead now has another honor bestowed upon it:  Deadliest Show on TV.  At least according to Funeral resource guide Funeralwise.com, and it seems like those guys would know.
The site released its second annual "TV Body Count Study", tabulating the death toll of 40 TV Series from the fall 2012 season.   The Walking Dead seized the number one spot with an average of 38 corpses per episode, 91 percent of them being zombies.  To be clear, these are dead zombies, not un-dead zombies.
Second place went to Cinemax's Strike Back with 26 bodies per episode, followed by NBC's Revolution with 11.  Note that The Walking Dead averaged more than the two combined.
Among the other interesting statistics from the study:  Guns were the most common weapon used, and gunshot victims were only 44 percent of the fatalities. Men were a whopping 86 percent of the dead, and Women were generally killed by something other than a firearm.
Death is up in general, over 12 percent, and so are funerals.  Surprisingly, with all of that death there were only 11 onscreen funerals to honor those who paid the ultimate price for … whatever.
Interestingly enough, of the 40 shows sampled Spartacus and Game of Thrones were not included on the lists, fans of those shows are reaching for their abacuses and DVD collections as I type.