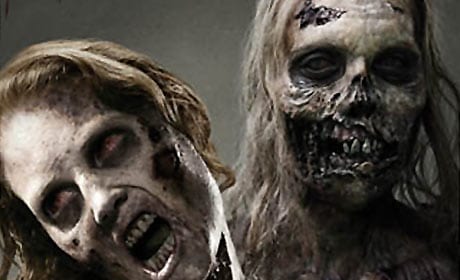 TV fans showed up by the millions to show their appreciation for AMC's ultra-violent character drama The Walking Dead.  Having long ago established it's unique blend of gore and high drama, The Walking Dead's third season continued to establish itself as a ratings heavyweight, even without DishTV, shattering ratings set from cable to broadcast.  Here are some key wins:
– The Walking Dead is now the biggest Drama Telecast in basic cable history with an incredible 15.2 Million viewers for the night.
– In terms of the 18-49 year old viewer demo that determines a show's attractiveness to advertisers, The Walking Dead delivered 10.3 Million viewers, besting The Voice, The Big Bang Theory, Modern Family, and, yes, even Jersey Shore.  Shocking, I know.
– The Walking Dead after show, The Talking Dead, attracted 2.1 Million viewers.  Or put another way:  more than most shows on TheCW.
The Walking Dead's third season will connect with some of the more iconic characters and settings of the comics as Rick and his crew settle in to "The Prison", while The Governor lurks nearby.  Michonne, a fan favorite from the comics, was also introduced in full form last while having been only glimpsed in shadows in the season 2 premiere.
One factor that seems to be slightly dividing fans of the TV series is the amped up violence of The Walking Dead's third season.  Fans of the comic might say it's finally on par with the source material after a zombie-light second season.  The comics balanced the absurd violence of the cinema based zombie trends (Romero's Dead films, of course, but also source material like Lucio Fulci's Zombie, and the Gates of Hell) with equally intense dramatic arcs. Come on, am the only one waiting for a town full of frozen zombies to thaw out?
New York – October 15, 2012 – The biggest show of the fall season among Adults 18-49 is on AMC. Last night, AMC premiered season three of "The Walking Dead" and outdelivered cable and broadcast hits including "Hatfields & McCoys," "Jersey Shore," "Modern Family," "The Big Bang Theory" and "The Voice." The 9pm ET premiere garnered 10.9 million viewers and a 7.4 HH rating making it the highest rated episode in series history, and growing more than 50% over last season's premiere. The season 3 premiere now reigns as the biggest telecast for any drama series in basic cable history among all viewers. "The Walking Dead" encored at 10pm with 3.5 million viewers and midnight with 850,000 viewers delivering 15.2 million viewers for the night. In addition, the season two premiere of "Talking Dead" at 11pm attracted 2.1 million viewers, growing 85% over the season one premiere.

Source: Nielsen Media Research, L+SD. Program premieres and encores, excluding sports. Broadcast season to date (9/24/12 – 10/11/12).