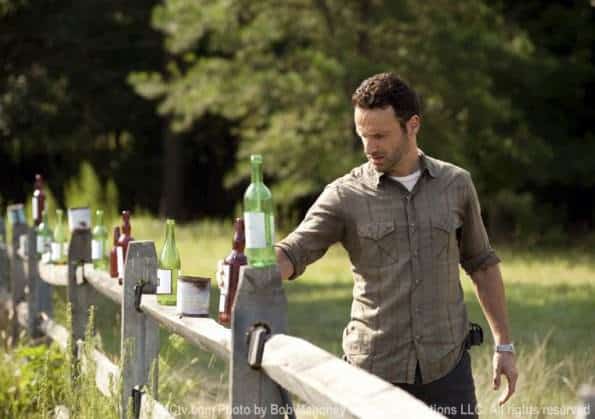 Last week's Walking Dead had a pretty great cliffhanger, with Glenn discovering — Spoiler Alert! — that Hershel's been keeping a horde of walkers in his barn. That's a pretty big twist, though one that fans of the original comic might have seen coming. Next week's episode is titled "Secrets," and Hershel's Walkers are indeed one of the titular secrets that will be focused on.
Unfortunately, if you're looking for some promo photos to give any hints at all about what's coming up next with those barn Walkers, you're sorely mistaken. In fact, only two new promotional photos for the episode have been released — one featuring Rick and the other featuring Lori. Looks like the Grimes family's secrets will be the focus of the episode, too.
This is an abnormally low amount of promotional photos for an episode, but it makes sense — AMC is most likely going to start playing some plot points really close to the chest in order to avoid spoilers. The only plot details we can glean from these photos is that Rick is setting up some target practice and that Lori and Dale have a chat.
But hey, we're hungrier than the Walkers for any Walking Dead spoilers we can get our hands on — and we bet you are, too.
The Walking Dead will air its next episode, "Secrets," Sunday, November 20 at 9/8c, just before AMC's new series Hell on Wheels premieres its third episode. "Secrets" is the penultimate Walking Dead episode of 2011 — November 27th's "Pretty Much Dead Already" will serve as a midseason finale until the show returns in February to finish out its second season.