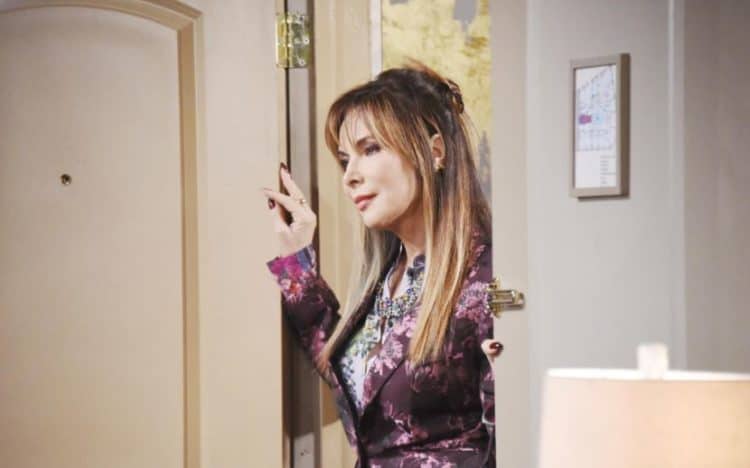 Days of Our Lives fans were just crushed when Lani and Eli lost their baby. It's been a few days now, and there is nothing that we can do to stop the hurt they feel after meeting their baby for the first time. We watched as the couple named him, took him in their arms, and basically said goodbye to the baby they will never have. It might go down as one of the most difficult things we've seen on television lately. It was crushing to see them deal with this, but we know they will find a way to get through this situation. She might never be the same again, though, and that will be sad. They have a strong support system, and we watched their parents decide they want to be strong for their kids in this horrible moment. It was not something we wanted to see.
We also saw Gabi get her job back, Abigail keep her secret to herself, and we've seen her all better from her alternate egos. JJ defended Theresa when she decided to sue Brady for full custody of Tate, and things just don't look good. She came back from wherever she's been and decided to do this for spite. If she can't have him back, she'll just make sure he is miserable, unhappy, and unable to be a parent to his son. She's not entirely nice about things, and that's not something fans are thrilled with. We're left wondering what will happen following the awful confrontation that went down, too. It's been a very interesting situation, and we just aren't sure how it's going to play out. We do know, however, that there will be a lot of drama coming from this storyline. It won't go well for her, and we can promise that.
What's Happening on Days of Our Lives
A little word of advice. 😉 #DAYS
📸: @kristianalfonso pic.twitter.com/D6vie8g5Jh

— Days of our Lives (@nbcdays) June 22, 2018
We love the men and women who call Salem home, though we don't always love the message they send out in their show. They make poor decisions, they do horrible things, and they rarely make us feel good about their lives, but we do love that in the real world, they're all about sending good vibes and messages, just like Hope (Kristian Alfonso) does by wearing her Be Kind shirt. It's one of our favorites, and we love that the show shared her in it on their page. She looks great, she's sharing a great message, and it make sus happy to see her using her influence for good. It's happiness to us.
What's Next on Days of Our Lives
This week on #DAYS: Theresa sues Brady for custody, and Abby is afraid she's pregnant with Stefan's baby. https://t.co/yXmUxFfRpc

— Days of our Lives (@nbcdays) June 25, 2018
We are going to see a lot happen in the coming days, and one of those things is the fact that Kayla has a theory about Kate, and she's sharing it with Stefan. It's important we remember she's not doing this to be a bad person or to hurt her friend. She's been put in a tough spot. She wants to save her husband's sight, and that meant doing something she's not comfortable doing. It's not good news for her, but she's got to share what she's learning about things in their lives. It's going to work out for her in the end, we assume, but she's deeply betraying her friend right now. It's ugly and unfortunate, but we hope it will turn around for her in some way. It might not, but we are hopeful.
Abigail has a suspicion she might be with child, but she's not sharing the news with her husband. She knows now what she did, how she did it, and what happened, and she knows her husband is struggling with the fact that there is some part of her that felt like sleeping with Stefan. He knows it's her alter ego, but the fact that any part of her body, mind, or soul feels that way is a problem for him. He's struggling, and she's not about to make that worse for him. She's miserable with this situation, and we don't see it going well for her.
Stay tuned for more Days of Our Lives and be sure to check out TVOvermind daily for the latest Days of Our Lives spoilers, news, and updates.