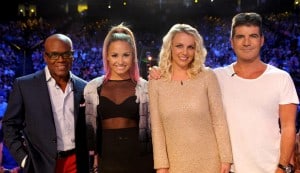 Tonight's the night all fans of The X Factor have been waiting for in which the remaining 16 contestants perform live on stage. Although originally scheduled to start tomorrow night, the prompt end of the World Series allowed The X Factor to bring us the live shows one day sooner (Thanks, SF Giants).
The X Factor live shows ups the anty on the contestants' performances, with backup dancers, choreography, and makeovers, leaving the singers no longer seeming like amateurs auditioning for a reality show, but more like genuine artists trying to make it in the biz. Still under the watchful eyes of their coaches, the contestants must work harder than ever to impress not only the judges, but America as well, since their fates are now in the hands of the voting audience.
Although I'm very (very!) excited for The X Factor's first live show tonight, I am equally curious as to see how Khloe Kardashian Odom and Mario Lopez fare as the new hosts for this season. Mario, who is no stranger to hosting gigs, should do fine interacting with the contestants, but will his dimpled cheesy one-liners be able jive well with the more sarcastic and no holds barred banter that we've come to expect from Khloe? Although she's hosted her own radio show in the past, how will Mrs. Odom do on live television hosting in front of a studio audience? If for no other reason, I will be tuning into The X Factor tonight to find out the answers to these burning questions and more. Stay tuned for the results…
The X Factor airs Wednesday and Thursday at 8/7c on Fox.