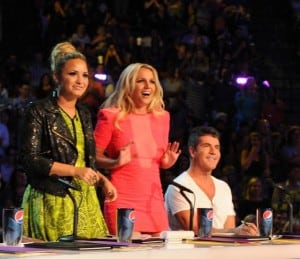 Last night The X Factor made its return to television for its second season and as everyone who's been paying any attention at all to the media knows, this premiere episode was much less about the talent search and way more about the addition of Britney Spears and Demi Lovato to the judges panel.
Executive producer and fellow judge, Simon Cowell has taken a bit of heat with critics wondering if Demi has the experience to warrant offering up an opinion to the contestants and whether or not Britney would have a public meltdown.  These whispers were squashed immediately out of the box however, with entertaining banter, bad ass comments (especially from Britney), and a great chemistry between the four judges that had me excited to keep watching.
The X Factor kicked off the show by introducing the beautiful 21 year old Paige, who had her three year old daughter in tow.  Whispering and making catty comments about Paige in the background were fellow contestant Kaci and her sister, whose antics certainly gave southern hospitality a bad name.  After an amazing performance from Paige, to which she earned four yeses from the judges, the sisters continued to take aim at other contestants and tout their own beauty and talent.  In the end,  karma (and lack of talent) got the best of mean girl Kaci because she was told that she could not sing and that she was annoying, which was probably the nicest way to put what the rest of the viewing audience was thinking.
Others that met a similar fate to Kaci were an old man singing about cotton candy, which I believe was supposed to be a metaphor for hot girls, but the thought of him singing to said girls makes me queasy, so I'm going to pretend he meant the sugary carnival treat. A reject boy band member bit the dust as well after Simon reminded him that there is always one member of the boy band that can't sing and it seems to be him. Ahh, I missed you Simon.
Another reject of the night was Don Philips, a former duet partner of Britney herself, who had apparently gone through some tough times over the past decade or so, because his voice definitely lacked…what do you call it….Tone? Pitch? Appeal? Â Yes, all three of those. After being turned down by the judges in the most awkward moment of the night when he uttered, "Britney?" with a sad puppy dog face, Don broke down into a sobbing mess that made me wonder if he was actually that person from the "Leave Britney Alone" Youtube videos from a few years back.
On the other side of the coin, there were plenty of standouts as well last night starting with the "Baby Bieber" as I like to call him, Reed Deming, who took on Bruno Mars' "Grenade." While his voice shook like crazy and he looked like he might throw up at any minute, he did have a charm and nice tone that squeaked him through to the next round. Â The first successful group of the season made its way into the next round last night as well, with an original song. While Emblem 3 definitely had some sort of hip hop / Beastie Boys thing going on, I'm not sure how far all the shouting over each other will take them. Â Also slipping through was a drag queen in a wedding veil and diaper who sang Lady Gaga's "Born This Way." With very little actual singing ability, but a boat load of entertainment, Simon agreed to "embrace the madness" and he, Brit, and Demi sent Quatrele through.
As for the female talent that impressed the judges, two others joined Paige in making it to the next round with arguably the best performances of the night. First was Janelle who had dreams of being like Pat Benatar, a goal that, based on last night's performance, is very obtainable. She power-housed her way through Grace Potter's "Paris" like a pro and impressed everyone who was watching.
The last performance of the night came from the very unassuming and very emotional Jillian, who was a big fan of Demi's because she could relate to the bullying that Demi has spoken about publically. She sobbed her way through "Who are You" by Jessie J., but somehow managed to do so in a way that was both surprisingly appealing and touching.  She left all four judges not only impressed, but touched, with even Simon needing to stop for a candy break to cover up the lump in his throat.
Overall, I'd have to say that The X Factor's season two premiere was a success.  The feel of the show was reminiscent from the original days of American Idol when the judges actually judged and the chemistry was enjoyable. I found myself being charmed and impressed by Demi Lovato, a feeling I certainly wasn't expecting and Britney Spears may be one of the most entertaining judges of all times.  The pop princess had no qualms telling contestants exactly what she thought, and even if she hesitated for a second to do so, her priceless facial expressions told the story for her anyway.  I don't know about the rest of America, but I will anxiously await tonight's second night of premieres to watch more of the talent (or non-talent), hear more Simon sarcasm, and see more of Britney's looks of shock and disgust.
What did you think of last night's premiere? Did Simon make the right choice by choosing Britney and Demi to join the judges panel? Â Share your thoughts here.
The X Factor airs tonight at 8/7c on Fox.