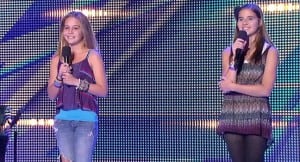 Last night on The X Factor, Boot Camp continued on as the 60 remaining contestants were hit with the next hoop they had to jump through before making it to the next round. Â After a nerve wracking first night in which they had to sing all by themselves literally surrounded by all 120 contestants on stage, The X Factor decided to take the pressure up a notch and add a few rivalries for good measure by pairing the contestants up and having them sing together on stage.
These sing offs, which at face value appeared to be a series of duets, were anything but, however, because the contestants weren't allowed to sing together, but just had to spilt the song in half and each try to out sing the other. The pairings were often obvious, with the twosomes either consisting of similar singers or of contestants that The X Factor thought they could create a rivalry between. Now and then, however, you'd get the rogue pair that just didn't make sense, but I guess those were just the leftovers they couldn't figure out what to do with.
While we weren't able to see many of the complete performances, we were treated to a few doozies, both in a good way and bad, one of my favorites being Beatrice Miller and Carly Rose Sonenclar. These thirteen year old powerhouses both gave an excellent delivery of "Pumped up Kicks," although I would say that despite Sonenclar's clear favorited status, Miller may have outdone her with her subtle, yet husky rendition.
Also back for night two of Boot Camp was the resident diva and voice coach Tara Simon paired with Jennel Garcia, whose performance on night one left L.A. Reid calling her "spicy." Tara immediately got into her pushy know-it-all mode in which she basically muscled her way into choosing the song, despite Jennel's concerns that she didn't think it was a good choice for her. Despite her claim that she was "not the kind of girl that has to try hard every single time and kill you," Tara over sang the song in the most annoying fashion every, while Jennel looked like a lost puppy singing sadly next to her.
Another strong performance of the night came from Jillian Jensen, a.k.a. the girl who broke Demi's heart when she sang.  After watching her partner Latasha Robinson tank the words to the song, she stepped in and delivered a solid and beautiful performance. What's better is that she tried to defend her partner and state that "she really did a good job on it" to the judges after singing. Nice and talented? Sounds like an urban legend to me.
Other notable performances of the night were David Correy and Vino Alan, who both sounded good, but Vino's botched lyrics left him throwing his hat in disgust and wandering off on a self hatred rant about not doing his best. Diamond White and Dinah Jane Hansen did as well as expected, with the exception of Dinah forgetting a few lyrics, with a toned down version of Kelly Clarkson's "Stronger."  Country boys Tate Stevens and Willie Dixon put out a luke warm performance in which Stevens picked the song, setting the stage for the inevitable forgotten lyrics by Willie.
Finishing off the night is the duo that The X Factor can't quite trying to pitch to us as the big diva rivalry of the season: Paige Thomas and CeCe Frey.  Before they started singing, the judges asked the pair why they think they should win. Paige piped up with a raw and emotional response that she doesn't fit in anywhere but "in the spotlight."  Tear.  What came next though was a bit uncomfortable even to watch as CeCe tried her best to evoke the same emotion out of her response but it just came out contrived and fake. "I want to succeed as bad as I want to breathe." A bit over the top, but what do you expect from a girl with fake leopard spots on her face?
When the night ended, we were left without answers and will have to wait until next week to learn the fate of the contestants.  Admittedly, I'm looking forward to next Wednesday when Boot Camp continues, and I'm not sure what I'm anticipating most: Seeing if my favorites make it through to the next round or if Tara Simon gets the boot…Who am I kidding…Get that girl out of here.
The X Factor airs Wednesdays and Thursdays at 8/7c on Fox.