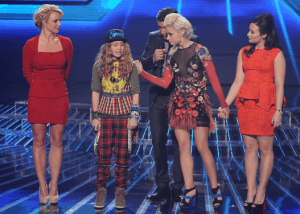 After last week's elimination of two members of the teens group from The X Factor, the teams have evened themselves up, leaving each judge with only two remaining contestants in the competition.
Britney had little to be thankful for last Thursday when both Arin Ray and Beatrice Miller were eliminated on the Thanksgiving episode of the show; however, she can't be all tears since her remaining two contestants are both very strong contenders, especially Carly Rose Sonenclar, who came out on top of last week's live show.  The remaining contestants still left in the competition are Simon Cowell's Embem 3 and Fifth Harmony, Demi Lovato's CeCe Frey (who again dodged elimination last week) and Paige Thomas, and LA Reid's Tate Stevens and Vino Alan.
Tonight, the remaining 8 contestants continue to battle it out during the live show in which they will perform with the hopes of convincing viewers to cast their votes to keep them in the competition for at least one more week. Also on tonight's live show is the premiere of a new video for "Scream and Shout," a song by The X Factor's own Britney Spears and featuring will.i.am.
The X Factor airs Wednesdays and Thursdays at 8/7c on Fox.