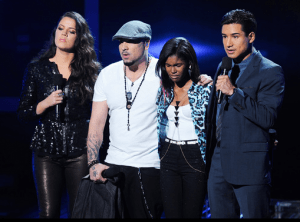 After last week's surprise elimination of Vino Alan, who had been consistently in the top 3, and Paige Thomas, who had one of her best performances thus far, the viewers of The X Factor have made it clear that no one is safe when it comes to the live results shows.
Paige, who had found herself in the bottom position on more than one occasion, wasn't a total shocker; however, her elimination came on the heels of a performance that the judges finally had liked. Vino, on the other hand, was a pretty big surprise considering his rankings and the praise he tended to regularly receive from the judges. Last Thursday night, however, it was Diamond White who got the go ahead to stay in the competition after being put up against Vino in a sing off that sent the tattooed singer packing.
All four judges still have contenders in the game with Simon Cowell and Britney having two each. Emblem 3 and Fifth Harmony are still fighting for the win over on Mr. Cowell's team, while Diamond and Carly Rose Sonenclar continue to sing for Britney's Teens team.  LA Reid and Demi Lovato are both down to one remaining contestant with country boy Tate Stevens representing the Over 25's and the queen of dodging the bullet, CeCe Frey, still hanging in there for the Young Adults team.
Tonight on The X Factor, the remaining six contestants will fight to impress the viewers, hoping to earn their votes in order to make it through to the next week.
The X Factor airs Wednesdays and Thursdays at 8/7c on Fox.