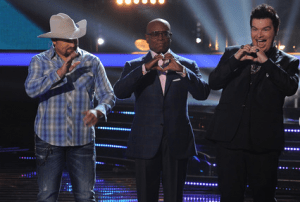 Last week on The X Factor, viewers were treated to a bit of inside information when the show decided to reveal just exactly how the votes fell on results night. While we are usually privy to the bottom two or maybe even three, finding out where everyone ranked was new and deliciously surprising.
It's not surprising to learn that Carly Rose Sonenclar was ranked high amongst the competition, but it was, perhaps, an eye opener for her coach that fellow team mate Diamond White was also ranked in the top four, especially considering that Britney had sent her home to week before over 11th place ranker Arin Ray. Â Another judges' wakeup call was for Mr. Simon Cowell himself, when he learned that Emblem 3, the group that seemed to be receiving all the hype, just averaged out in the middle of the group. Topping the rankings was country boy Tate Stevens, a pleasant surprise for coach L.A. Reid, who had little to no confidence initially that his group would be competitive this season, which proved to be a little true when America said good bye to Jason Brock at the end of last week's results show.
Tonight on The X Factor, the top 12 contestants (for real this time) fight for their chance to stay in the competition and become the winner of season 2.
The X Factor airs at 8/7c on Fox.