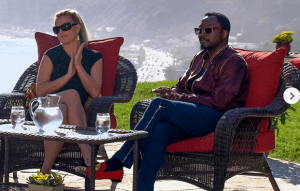 Last week The X Factor confused millions, including myself, when scheduling confusion caused the east coast to get a chopped version of the show, while the west coast, didn't get to see it at all.  Why the problem? Well, according to a very angry Simon Cowell on Twitter, Fox pulled what he referred to as a "F-up," but the reality is, a rain delay in the baseball playoffs threw everything off.
If you're an east coaster like me, or even in the Midwest, you most likely started off The X Factor good enough with a little bit of a late start, but then all was seemingly well. Right in the middle of the show, however, the rain delay ended and baseball took the rest of the evening's TV time. Silly me even watched the game hoping The X Factor would pick up where it left off, to no avail. West coasters got it even worse, however, getting jipped out of the show completely.
Tonight, Fox and The X Factor will attempt to reconcile the problem by showing the missed episode, despite the fact that it is not the regularly scheduled day or time.  On tonight's episode of The X Factor, the contestants will be whittled down to just sixteen after learning the results of their performances at the judges' luxurious homes.
Be sure and set your DVR tonight for this extra episode of The X Factor at 9:30/8:30c on Fox.