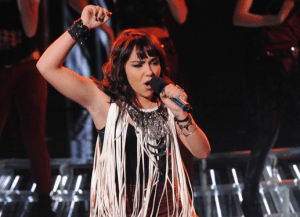 Last night on The X Factor, contestants took on the songs of diva greats such as Celine Dion, Whitney Houston, and Madonna. With such big shoes to fill, it seemed inevitable that it might be a rocky evening, however, in the end, the contestants with the most to give managed to pull up the tall order and the others who seemed to be struggling all along anyway, continued to struggle.
Perhaps the most impressive group of the night, if not the competition, was Britney Spears' teens group. Diamond White continued to prove why The X Factor chose to bring her back with a very impressive rendition of Beyonce's "Halo." Carly Rose Sonenclar amazed the judges and the audience when she nailed Celine Dion's "My Heart Will Go On," offering up one of the best covers of that song that I've ever heard…and she's 13! Cutie pie Beatrice Miller sang Cyndi Lauper's "Time After Time," and while she sang it well, I didn't feel like Britney did her justice with the very slowed down and very boring arrangement. Arin Ray, whom Britney just can't seem to quit, tanked with a gimmicky attempt at Madonna's "Crazy For You," leaving him at big risk of elimination for tonight.
Also faring well for the evening, were L.A. Reid's over 25's group with last week's number one ranker, Tate Stevens, nailing it yet again with the Shania Twain classic "From This Moment." Vino Alan also didn't disappoint with a very confident and gritty rendition of Al Green's "Let's Stay Together." With only two contestants remaining in the competition for this group, L.A. has all his eggs in these guys' basket if he is hoping to pull off a win for his team this season.
Simon Cowell's groups took it up a notch this week and offered up a few memorable, if not perfect performances. The newly formed girl group, Fifth Harmony, took on Mariah Carey's "Hero" and not only did it justice, but actually did a very impressive job. Emblem 3, who up until the rankings reveal last week would have been assumed to be a fan favorite, fought hard to earn the audiences approval with a very well harmonized version of Alicia Keys' "No One." The quirky hip hop / rap group Lyric 145 was Simon's only falter for the night, earning some strong criticism from L.A. Reid for their mash-up of "ET" and "We Will Rock You."
The group having the hardest time last night was Demi Lovato's young adults group with last week's almost eliminated contestant CeCe Frey taking a beating from the judges with her rendition of Celine Dion's "All By Myself," and rightfully so. Her performance was so over the top without the vocal chops to back it up, that it almost made it uncomfortable to watch. Paige Thomas fared a little better, with the judges offering mostly kind words, if not overly complimentary for her version of Donna Summer's "Last Dance," but even so, Simon Cowell insisted that the backup dancers took away from her performance. Â Jennel Garcia was a standout amongst her group for the night, returning back to her roots both in song and looks with a spot on performance of Tina Turner's "Proud Mary, to which Simon was very impressed.
Tonight, the contestants will learn what America thought of their performances when their votes send one of the singers home packing. Amidst the elimination results, Taylor Swift will be performing her new single live, making it a show not to miss.
Who do you think did the best last night on The X Factor? Who will be sent home? Share your thoughts and opinions here.
The X Factor airs Wednesdays and Thursdays at 8/7c on Fox.