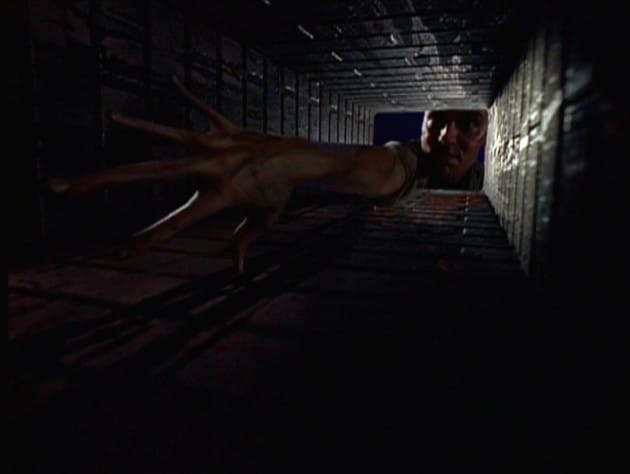 As I continue my journey through Season 1 of The X-Files , I have reached Episode 3, wherein the show truly finds its stride as a series. There weren't major problems with the first two episodes, but this is where we really start to see the outside ridicule of Mulder, people shaking their heads at Scully for working with him, and, despite all that, the pair solving cases better than the rest of the FBI ever could.
On this episode of The X-Files: Scully is asked by an old friend, Tom Colton (Donal Logue, Gotham) to take a look at a case with him, and she insists that Mulder be allowed to come along. Mulder, of course, finds something that everyone else is missing. The rest of the FBI continues their ridicule of "Spooky" Mulder, even though he might be right.
One of my favorite things about my journey through this show (already) is discovering the now-more-famous guest stars. In last week's episode, Seth Green appeared as a stoner teen who assisted Mulder in sneaking on to the military base. This week, I instantly recognized a much younger Donal Logue, who went on to play (among many other characters) Harvey Bullock on Gotham. I love this kind of thing, because you can already see shades of greatness in these performers. Obviously, they have evolved quite a bit as actors since, but it's still fun to see what kind of journey they're on. I will try to continue to update with new guest stars I see and where I recognize them from.
I really see the bond between Mulder and Scully taking root. When these characters first met, their personalities shone best in the way they took to each other. Mulder with open arms, and Scully with caution. As the episodes progress (this is only the THIRD, by the way) they are already fond of one another. Scully, while still cautiously approaching both Mulder's theories and her own work, shows her fondness for Mulder in her interactions with other, "normal" FBI agents. Mulder, meanwhile, is more of a "heart on your sleeves" kind of guy. Normally, this just means that he is open about his belief in the paranormal, but it also means that he very much cares about Scully (but maybe not her reputation). I could feel this episode radiating with emotion from both characters, when Scully interacted with the other agents, and when Mulder knew that she would be the next victim of the creepy mutant.
This was perhaps my favorite case in terms of being solved. In some ways, this episode felt like one of Supernatural (not a bad thing at all). I found the creepy mutant a bit predictable (though VERY creepy), but I was glad to get some closure. It satisfied me immensely to see that Mulder was right, and the "mainstream" FBI was not. This shows how much you can grow to root for a character in three episodes.
One thing about this episode stood out above the rest, and it was the brilliant performances by both David Duchovny and Gillian Anderson. Of course, they are the show. They make the show as beloved as it always has been. But these two just take lead actors everywhere to a whole other level. Duchovny's Mulder has clear wants and needs, but his cocky yet optimistic character is inherently likable. He's constantly ridiculed, but his beliefs outweigh his need for social acceptance. Duchovny radiates a man who has moral convictions, and an obligation to find out the truth. Even in his humorous moments, there is tremendous truth in his performance. Anderson, as I've said before, is perfect as Scully. The cautious way in which Scully operates, only motivated by the facts, is apparent in both verbal and non-verbal interactions with the character. After a few short episodes, both characters are so easy to read, and that is due to rich performances from the shows leads. It became increasingly apparent in this episode just how The X-Files became such a massive hit.
I'm three episodes in, and I'm hooked. It's actually pretty painful to go slow and write these reviews. Once I get through the first season, rest assured I will binge like no one has ever binged before. Yes, it's that good. The writing is good, the cast is wonderful, and the story keeps you invested. What more could you want from a show?
What do you guys think? Does The X-Files stay strong in its third installment? Let us know in the comments.
The X-Files Seasons 1-9 are currently streaming on Netflix.
[Photo via FOX]