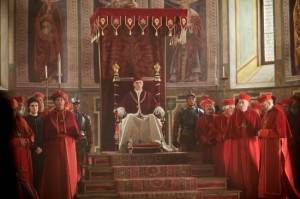 Juan and Lucrezia Borgia have risen in importance in the second season of The Borgias. Granted, they've always been interesting characters housing fantastic performances, but in recent times, they've been more individually active and making moves on their own. Rodrigo still has a certain amount of control over them, both as the pontiff and as their father, but the brother and sister have separated themselves enough and forged their own paths now that we're nearing the end of the season.
Juan, former playboy of Rome, was injured at the Sforza castle in Forli in the last episode, but instead of telling Rodrigo the real reason for the hobble, he paints himself in the best light and shifts the blame to Cesare. In Juan's mind, he's a battle-scarred hero that was struck down fighting for the pontiff, rather than a cruel, power-hungry man with an inferiority complex. Juan poked and prodded Catherina to unleash hell on him and his army, going as far as torturing her son in front of her, so his injury is more out of hubris than any type of military glory. The Cesare blaming, though, could set up a final confrontation between the two brothers, as well as driving Rodrigo apart from his son in the cloth; Cesare already got under his skin for killing Giovanni, so there's enough of a chasm there for Juan's accusations to do real damage.
Meanwhile, Lucrezia finally has to make a choice about her marriage. For a couple of weeks, the Borgia daughter has been battling feelings for the brother of the man that would be her suitor, culminating in a kiss and a confession in the last episode. Now, she's been proposed to by a man she doesn't love and she has to decide how to play this. With her recent independent streak and open defiance toward her father, I wouldn't be shocked if she rejected the proposal, but Lucrezia is a smart, crafty girl. She could very easily marry her suitor to placate Rodrigo and continue to see his brother on the side, thereby not fully sacrificing happiness in the name of political alliances.
The Borgias airs Sunday at 10:00 on Showtime.