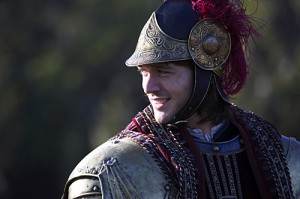 In the first season of The Borgias, the premiere family of Rome had to deal with a variety of personal and professional threats, ranging from abusive husbands to conspiratorial colleagues and crises of both faith and identity. Rodrigo, Cesare, and company may have been able to fight off even the most aggressive of foes, but their time in the crosshairs of half of Italy is far from over.
The latest promo for season 2, titled "God and Borgia", is more of the same lush mixture of sex, violence, power, and politics that we saw in season 1, only this time framed by experience. From the time Rodrigo Borgia became Pope Alexander VI, people have been gunning for him and it looks like season 2 finds The Borgias turning on one another. Guilia Farnese has given her lips to another, while Cesare is amping up his interest in the military, possibly trying to usurp Juan's position as Borgia family soldier and get closer to his father in the process. If that wasn't enough, there's another plot to kill the Pope, only this time from a mysterious friar that (I don't think) we've met. Is the Borgia family equipped to handle another threat so soon after fending off Cardinal della Rovere?
And don't think the actions last season happened in a vacuum, either, as the full trailer shows. Lucrezia's outwitting of the entire French army has boiled the blood of King Charles VIII, placing an even bigger target on Rome than had been there before. But before you're thinking that the city isn't prepared, especially with Juan leading the troops, check out the updated weaponry that Rome is employing. Maybe Rome won't be invaded for a fourth time after all.
The Borgias premieres its second season on Sunday, April 8th at 10:00 on Showtime. Preceding it will be the fourth season premiere of Nurse Jackie and third season premiere of The Big C, respectively.