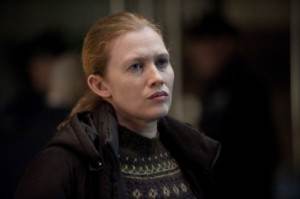 Election day should be Darren Richmond's day, a crowning achievement in his already successful political career. Having run a (mostly) clean campaign, the councilman had pulled to a virtual dead heat with the mayor, a mere coin-flip separating him from the highest office in Seattle. It would be a stunning comeback story, both for Richmond personally and his position in the polls earlier this season on The Killing, and something that would be talked about during political races for years to come.
Except for one thing.
Linden and Holder have put the pieces together and thanks to the missing tape from the casino, are now coming after Richmond campaign aide Jamie for his connection to Michael Ames and Chief Jackson. In the sneak peek for the second season finale of The Killing, titled "What I Know", the two detectives crash the election party for the councilman in order to bring in their suspect. The only problem is that neither Jamie nor Darren is at the party and the police presence will assuredly whip Gwen into a tizzy. If she can get word out to either man that Linden and Holder are at the party, it could hinder the chance of an arrest being made and (presumably) Rosie Larsen's killer being brought to justice.
Judging from the demeanor of Linden and Holder at the party, I don't think that they have anything on Gwen. The Killing played with the idea of both campaign aides having a role in the murder, but Gwen doesn't get arrested (or anything close) in the sneak peek. It could be a case of the detectives going after the solid conviction and then pressing him for Gwen's involvement, if she had any, or Jamie just might be the only member of the Richmond campaign to take his role much, much too far.
The season finale of The Killing airs Sunday, June 17th at 9:00 on AMC.
Do you think Jamie killed Rosie Larsen? Is there any way that it could be anybody else? If Jamie did kill Rosie, would that be a satisfactory ending to the Larsen mystery?