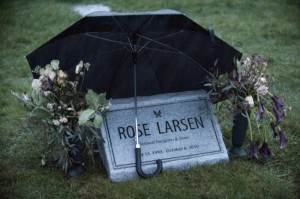 AMC's divisive crime drama The Killing has its first promo released for season 2, but if you were looking for any clues about the upcoming set of episodes, you may be disappointed.
Instead of piling on new footage or hinting at how they could follow up that finale, the promo instead sets up the season by reminding us of Holden's (Joel Kinnaman) alleged double cross and Sarah's (Emmy nominee Mireille Enos) role in the investigation to follow. There's a hint at a major conspiracy brewing in the city, with the promo making sure to show Holder carrying out a box of "secret" documents, so the search for Rosie's killer may have gotten a little more complex.
Joining The Killing for its second season are Mark Moses (Desperate Housewives) as a clean-cut new detective and Marin Ireland (Homeland) as Holder's sister, among other new additions. Michelle Forbes and Brent Sexton, who played Rosie's parents Mitch and Stan in season one, will be resuming their roles, as well.
It's hard to tell where The Killing is going this season, especially by that promo, but I'm ready to find out what it has in store this go-around. I understood all the frustration around The Killing at the end of last season; I'm intrigued enough by the promise of a reveal this season to give it another go, particularly to enjoy Kinnaman's chemistry with Enos and the little wrinkle of Rosie's death possibly being part of a conspiracy.
The Killing returns for its second season on Sunday, April 1st at 8:00 with a two hour premiere. The following week, the show shifts back at hour to its regular time of 9:00, wherein it'll be followed by Mad Men.
Will you be tuning in to the second season of The Killing this April? If the season one finale made you angry, are you still upset about it? Those of you coming back, who do you think killed Rosie?
http://www.youtube.com/watch?v=fbkKwCBZpqI