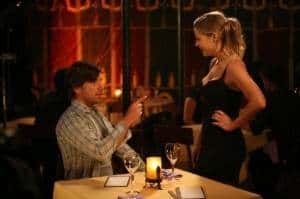 On tonight's episode of The League, Kevin may have to break out the Krav Maga moves he learned from the flirty instructor last week; it turns out that the daddy of Ellie's friend Chloe is someone that was sent to prison by Assistant DA MacArthur years ago, so Kevin immediately begins walking on eggshells in order to avoid a altercation. The dad may not be looking for a fight in the :20 episode preview below, excitedly talking about the budding friendship of the two girls, but if they keep digging around the past, it may be going down at gymboree.
Elsewhere on The League, Pete's girlfriend is looking to help him with his line-up. If she treads lightly and knows her football, she and Pete may make a late charge for the Shiva, but if she shows her hand a little too much (or screws him over), the new girlfriend may be heading the way of the au pair. (Hopefully that doesn't mean into Raffi's bed, but stranger things have happened.) Additionally, the gang has to decipher what the heck they're saying to one another when autocorrect wreaks havoc on everyone's phones and Ruxin violates his company's e-mail policy.
It's unclear what exactly Taco will be doing while this is going on. He could possibly still be building Neckflix after stealing ties from The Light of Genesis, coming up with something to remedy the autocorrect situation, or hatching some other get-rich-quick scheme, for all we know. But rest assured that Taco Corp. will not sleep (or eat natural foods) until it gets up and running for good.
The League airs tonight at 10:30 on FX following the season finale of It's Always Sunny in Philadelphia. (For those curious, The League will be with us until December 22nd, so prepare yourself for a one hour finale next week.) To revisit the horror that was Bobbum Man and the colon-destroying horror that was Yobogoya, check out the show's Hulu page.