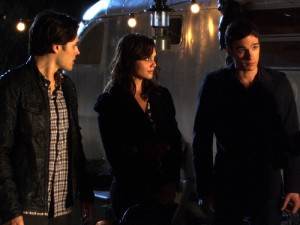 After a serious waiting game, The Lying Game has officially been picked up for a second season by ABC Family. The series, which aired its first season finale in early March, will resume production this summer. But more importantly, when will it return?
Interestingly enough, The Lying Game is set for a winter premiere, so don't expect to learn the blowback of the shocking revelation from the finale before January 2013. ABC Family typically premieres their shows in January, March, June, and August, so I think we've seen the last of Sutton, Emma, and the mysteries that surround them for a while.
It's a slight surprise that the show won't be back for such a long time, but all that matters is that it'll be back. Personally, I expected season two to premiere in August, the month that the series premiered last summer, but due to whatever stalled the renewal, that apparently wasn't so feasible.
The Lying Game saw its ratings climb in the second half of season one, thanks to its Pretty Little Liars lead-in and the increased social media buzz that it produced. When it returns for another round of new episodes, I'd imagine they'd pair the two shows up once again; they're both mysteries based on a Sara Shepard book series, each planting an explosive reveal in the closing moments of their most recent episodes. Tonally, there might be slight differences, but at their core, they're pretty similar and complement each other well.
Though The Lying Game won't be on during the summer, a whole lot of other ABC Family shows will be, including new episodes of Jane by Design and Pretty Little Liars, along with the debut of Bunheads. You can check out the full ABC Family summer schedule here.
Are you excited to have another season of The Lying Game? Where do you think the show goes following the events in the finale? Should it be paired with Pretty Little Liars when it returns?