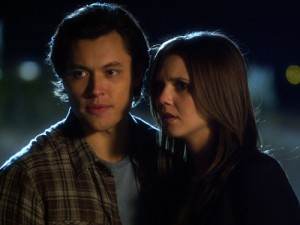 Well, that happened.
Even though all signs were pointing to the return of Sutton Mercer on last week's episode of The Lying Game, I kept thinking to myself that there was no way in the world they'd re-introduce her back into the fold so soon. Not that it didn't make me utter a few profanities in surprise, but I assumed that, if she was still alive, she'd slither her way out of the shadows during the finale after half a season on the lam.
Instead, snarky Sutton is on the loose, but she's not getting out of it that easily. Though Emma is in tears of relief at her sister's appearance, Thayer and Ethan, who have bore witness to too many lying games, aren't quite having it. You can tell that they think she's behind the anonymous note and dress scrap that Emma received at the end of the premiere, but I'm not quite sure anymore. Sutton throws in a comment about not being able to call them to let them know she was okay, but if she had been incapacitated that badly, either by injury or someone holding her captive, there's no way she could have been responsible for the note. Right?
Elsewhere on The Lying Game, Rebecca has seemed to have won over Kristin, a move that has to make Ted nervous. Though she's not done anything to make people suspicious of her, Rebecca has been making subtle moves to needle Ted and Alec since she came back to Phoenix. By now, it's clear that she has some type of major dirt on the two men, possibly from their dealings with Annie Hobbs, and this wooing of Kristin may be a way to slowly unveil one of Ted's many secrets. If Ted and Alec were as unrelenting as I imagine, it'd be perfect payback for someone ran out of town years ago by their mixture of recklessness, arrogance, and stupidity.
The Lying Game airs tonight at 9:00 on ABC Family following Pretty Little Liars.