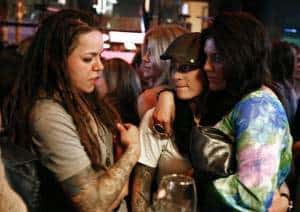 Showtime has confirmed the start dates for two more of its shows, as Web Therapy and The Real L Word will be returning this July. Web Therapy, which debuted on the network last summer, will return for its second season on Monday, July 2nd at 11:00. The third season of The Real L Word, meanwhile, will be premiering on Thursday, July 12th at 10:00. It's a schedule change for both shows; Web Therapy aired on Thursdays and The Real L Word on Sundays during their respective seasons last summer.
When we pick back up with Web Therapy, Fiona will have settled in nicely to the role as aspiring political wife. As you'll recall, Kip announced his senate run at the end of last season and Fiona Wallace, ever the social climber, put her plans of leaving him on hold to stay. Can she be the wife Kip needs her to be, while "writing" her book and seeing her patients? Guest starring in the 11 episode second season of Web Therapy are Rosie O'Donnell, Meryl Streep, Conan O'Brien, and Minnie Driver, among many other potential clients for Fiona to try to treat using her unique modality.
The Real L Word has undergone a pretty dramatic cast overhaul in its short life, dropping five girls between the first and second seasons. Going into season three, there looks to be more change on the way, due in part to the show going bi…coastal and playing up the lesbian social scenes in both New York and Los Angeles. There's no mention of who's coming back and who the "special guest appearances" and "fan favorites" are, but the third season of The Real L Word should bring the drama and interesting relationship dynamics we've come to expect.
Web Therapy and The Real L Word join Weeds and Episodes on Showtime's summer schedule, with the latter two bowing Sunday, July 1st.