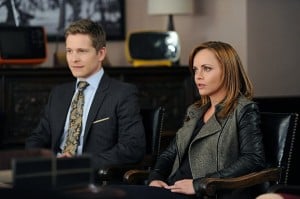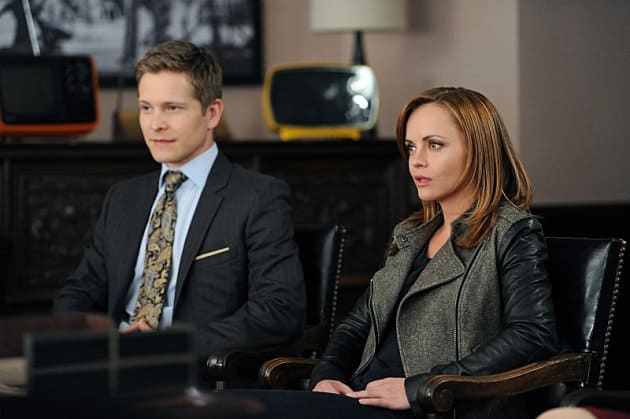 The Good Wife explored the complexities of military vs. civilian law last week and tonight they are taking on matters of indecency, as a comedian is getting sued by a television network. Christina Ricci guest stars as Therese Dodd, the comedian accused of this act. Alicia (Julianna Margulies) and Cary (Matt Czuchry) travel to Washington D.C. as part of the case and this will lead to an awkward family reunion for Cary.
It is interesting to note that it is the television network and not the FCC (Federal Communications Commission) that is suing Therese Dodd, though the reason they are in Washington D.C. might have something to do with this department (this is where their headquarters are). As you can see from this promo Dodd exposed her breasts on a talk show, not an act that she claims to have premeditated. The issue of what we can see on TV is a contentious one, particularly when showing certain acts of violence is fine, but nudity is not. Language is another area up for discussion as Dodd gets asked if she enjoys using vulgar language (she does). There are past examples where matters such as this have gone to court; such as the Janet Jackson Super Bowl incident that got ruled as not illegal and should be considered as similar to the "fleeting expletives" exception.
Meanwhile Peter has his own matters of exposure to address, as the so-called affair to Indira Starr (Liz Holtan) just won't go away. This is now a bigger problem as Maddie Hayward (Maura Tierney) has thrown her name into the competition and it is something she could definitely use against Peter. Tonight it will take a step towards the ridiculous for Peter as he is asked about a mark on a certain part of his anatomy (Clinton impeachment anybody?). Is this just the beginning of a tough road ahead for Peter? Having Maddie as a new opponent is a good move considering Matthew Perry is currently unavailable thanks to Go On (though expect to see Perry later this season). Maddie is going to be hard to beat, despite the result of the straw poll and so Eli (Alan Cumming) has a huge job on his hands. Eli is always better when he has his back against the wall, so this should be a lot of fun.
There are other personal and professional issues tonight and we will find out a little more about Cary's private life, with the introduction of his father (played by John Shea). Cary has been underused so far this season much to my disappointment, but his new friendship with Clarke Hayden (Nathan Lane) and the office share with Alicia have both been nice little touches. It is Cary's relationship with Alicia that is one of The Good Wife's secret weapons and their interactions with each other are always a joy to watch. Will Cary confide in Alicia tonight about his father?
The professional issues are of course at Lockhart Gardner and Burl Preston (F. Murray Abraham) is sniffing around asking Alicia questions about family law. This concerns Will (Josh Charles) and Diane (Christine Baranski) who immediately thinks that Clarke is trying to sell them to cover the debt, but is this really the case?
Watch the promo for tonight's episode "Anatomy of a Joke" and see photos from the episode here. For more season 4 news, photos and videos check out our Good Wife page.