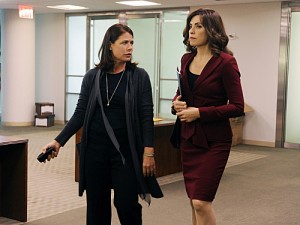 The Good Wife season 4 premiere isn't for two weeks but we have a sneak peek at what will be going on in episode 2. Following on with the theme of The Clash song lyrics the second episode is called "And the Law Won" (episode one is "I Fought the Law") so this doesn't spell a whole lot of good for all those at Lockhart Gardner. Spoilers ahead.
Maura Tierney's character Maddie Hayward will be introduced in this second episode and Hayward is an influential Chicago millionaire who Eli (Alan Cumming) targets as a donor for Peter's (Chris Noth) gubernatorial campaign. As you can see from the promo photos Maggie will also be interacting with her former E.R. co-star as well as Diane (Christine Baranski) so will she have dealings with Lockhart Gardner as well as Peter?
Nathan Lane is appearing for a second time as Clarke Hayden; the court appointed trustee who is overseeing Lockhart Gardner's financial issues and is attempting to cut the firms spending.
We have previously discussed the impressive list of guest stars that are set to appear on The Good Wife and several more big names have been added to that already extensive list. The military court episode that begins a recurring story for Amanda Peet that will see her character become friends with Alicia (Julianna Margulies) will also feature Brian Dennehy as a lawyer who has ties to military contractors. This episode will also see the return of Denis O'Hare as Judge Abernathy and Linda Emond as Judge Kuhn and Denis O'Hare has been tweeting photos from the set (including shots of episode director Josh Charles). Joining the list of illustrious judges this season is Judd Hirsch, who has recently appeared in the last season of Damages.
Several political figures such Donna Brazille and Lou Dobbs have appeared on The Good Wife playing themselves and Bill Maher (host of HBO's Real Time with Bill Maher) will be doing the same this year and will most likely be involved with the Peter campaign story. In season 1 Chelsea Handler appeared as part of a chat show segment with Amber Madison (Kim Shaw), the prostitute who Peter slept with.
Christina Ricci will be playing a controversial comedienne that needs help from Lockhart Gardner and this will mark Ricci's first return to TV since Pan Am was cancelled.
It isn't only new faces that we will be seeing as Lemond Bishop (Mike Colter) will return to the fray and his money will be very much appreciated (even if it isn't from the most legit source). The Hollywood Reporter reveals that we will be delving into Bishop's personal life, last time we did this was relating to his messy divorce/custody battle that didn't end so well for Bishop's wife. Bishop is an imposing figure and when he appeared at the end of last season he was less than happy with the FBI looking into his affairs while they were investigating Kalinda. Kalinda has enough on her plate with her ex-husband so hopefully Bishop won't add to these issues. Another returning character is my personal recurring guest star favorite and that is Carrie Preston as Elsbeth Tascioni, though there are no details yet as to what her storyline will be.
We have previously mentioned that we will meet some of Cary's (Matt Czuchry) family this season and TVLine reports that John Shea (most recently Blair's father in Gossip Girl, but also a former Lex Luther!) has been cast as Cary's father. He has been described as "awkward and stiff" and we can expect conflict with Cary.
Grace (Mackenzie Vega) has been through several phases, including religion and street dance so what's a little boy trouble to stir things up?! Zap2it reports that CBS are currently casting a recurring character called Connor, who is described as "very handsome, cool, isolated, dangerously charismatic." Connor will be a fellow student at Grace's school, a school that Alicia put Grace in to stay out of trouble. I'm pretty sure that Grace is going to be causing Alicia and Peter some headaches this year as she has done in the previous seasons.
We don't know if Martha Plimpton will be back as Patti Nyholm this season (though I hope she will), but Plimpton did win an Emmy last night in the best guest actress in a drama category for her portrayal of Nyholm. Patti is always problematic for those at Lockhart Gardner but this time she went one step further and played a significant part in Lockhart Gardner's new financial crisis.
The season hasn't even started yet and we already have a lot of news to digest. Which guest star are you most looking forward to?
The Good Wife will return on Sunday, September 30 at 9:00 p.m. ET/PT on CBS.