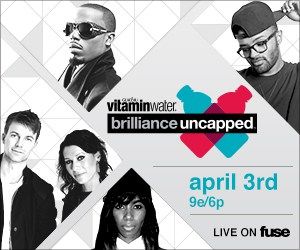 Being a resident of a town with an unfortunate name like Boring, Oregon probably means being subjected to  an endless, yet tasteless strings of jokes about, well, being boring. Well it seems like music channel Fuse is about to change that perception, if there is such an existing perception of the small Oregon town, with their brilliance uncapped live concert taking place in Boring this Wednesday, April 3rd @9pmEST/8pmCST/6pmPST. In other words, I would happily trade a day in my own actual boring ass town for a trip to Boring, Oregon this Wednesday.
From the minds of Vitamin Water and co-hosted by Damian Dante Wayans (Second Generation Wayans) and Fuse's own Yasmine Richard (host of the network's Top 20 Countdown), brilliance uncapped will be a two-hour live concert that will air exclusively and commercial-free on Fuse, while streaming live on the music network's website Fuse.tv. The concert will feature performances by Santigold, B.o.B, Matt & Kim, and Yung Skeeter and interviews from the performers throughout the night. This means you must set your DVRs accordingly this Wednesday night, or better yet, DVR your usual line up and watch live from Fuse.tv to watch Boring, Oregon engage in the ultimate makeover experience.
Plus, if you really want to see the town of Boring, OR get its complete transformation courtesy of VitaminWater's #makeboringbrilliant campaign, then you can follow the saga on CollegeHumor.com or watch it in four interlude segments throughout the concert. It will most definitely be a night the denizens of Boring, Oregon will never forget.
So witness Fuse and VitaminWater turn Boring into "brilliance" this Wednesday, April 3rd. Now if they could only come and transform my Mayberry-esque Tennessee town with a live concert to boot, then life would most definitely be grand.
For more info on Fuse and Boring, Oregon's quest to brilliance, click here.
Photo Credit: Fuse