The cast and creative team from V made their second appearance at Comic-Con on Saturday in San Diego, and spoke with the media at press round-tables after the panel.
The second season of V begins production next month, and this year fans will able to enjoy and absorb the show without interruption. Most of Season 2 has been mapped out in broad strokes, according to executive producer Steve Pearlman. 'We start production in the middle of August, so we have scripts and stories for the first three episodes at this point. But we have a map for the first thirteen episodes this season…and we could do as much as twenty episodes this year.'
Executive producer Scott Rosenbaum revealed that, 'the Visitors have been here longer than one might have expected. Their goal has been to be able to figure out…when we arrive, and when we get to Earth — to be set up to succeed. They have planted seeds and done things ahead of time to ensure that the plan works perfectly. Morena Baccarin, who plays V Queen Anna, added that, 'they are planning to show a lot more of who we are.'
Rosenbaum also addressed the further exploration of allegiances to species, and compared Tyler and Lisa's relationship to Romeo and Juliet. 'Lisa is the queen of the next generation; she is ultimately going to take over for Anna. Is the love of one human worthy of throwing that all away? What is of more value to her, to rule or to possibly lose that because of her feelings (for Tyler)?'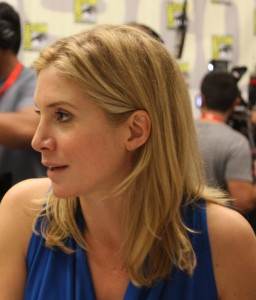 Elizabeth Mitchell, who plays Agent Erica Evans, was recently nominated for Outstanding Guest Actress in a Drama Series (for the series finale of Lost) and did not honestly believe it at first. 'It took me a good two hours of people trying to convince me. I read it maybe 17 times and five people told me, and I didn't believe it. I was only on camera for about seven minutes; it must just be a thank you for all of Juliet.'
Prior to Lost and V, Mitchell had never played a character for longer than seven months. 'To be on a show for three years and then on another one, it was so strange to start something else and to be inside of someone else's head. As it went on, it got more and more fun, as the character got more complex. If I don't have something to dig into, it's harder for me. But (Erica) started getting kind of juicy, so I was happy.'
Regarding Anna vs. Erica, Mitchell admits that, 'right now, Anna has the upper hand. She doesn't have any compulsion about causing harm to anyone. But I do believe that the qualities we have as humans, our compassion, our ability to see things from very unique angles — might just be the things that make us stronger. I believe the closer they get, the more nail biting it's going to be. If they truly get into each other's confidences and they start really having those talks…how freaky will that be? I like that tension that builds that way; it just heightens things."
When Mitchell was asked whether or not she preferred Erica to become romantically involved with either Jack or Hobbes, she said that 'both are fine. I'm an equal opportunity kisser. I enjoy the Father Jack character because he makes my character feel so safe. I also enjoy how dangerous Hobbes is. Danger is, unfortunately, very exciting…there is something wonderful about someone who is unpredictable. I don't know who the best choice is, morally. I think it's going to be fun to see what the two men bring out in her. I hope they don't throw her in with someone, because I like the anticipation and build up.'Mitchell is actually a fan of sci-fi because 'it always goes to a place of emotion and passion – the heart. I want to see that, for me."
Charles Mesure, who was just upgraded to series regular, offered his perspective about a possible romance between Erica and Hobbes. 'From day one, how could Hobbes not fancy Erica? She's a warrior, she's self-reliant. She's also the FBI, so she's forbidden fruit.'
Another couple on V with intriguing potential would be Anna and Chad Decker, Baccarin admitted that she herself is dying to know where they are headed. 'Now he is clearly aware of who she is. So will he still make himself available to her, or is he going to play her? It is going to be interesting to see how low he can go.'
As for the future of Hobbes, Mesure realizes that he 'starts Season 2 in a huge state of conflict. Am I going to pursue the money, save my own hide or side with these people, who are really trying to do something important?'
V is atop my list of most anticipated series returns, so I have to admit that my enthusiasm for the new season increased tenfold when Pearlman said that 'we have to grab the audience and give them some new stuff to make them go '˜holy sh*t!'and I think we're going to do that.'
It was also revealed that we are going to meet Anna's mother and Tyler's real father, which of course involves a twist. Stay tuned for more from behind the scenes with the cast of V at Comic-Con, including Logan Huffman's philosophy about both Tyler's and his own personal growth.