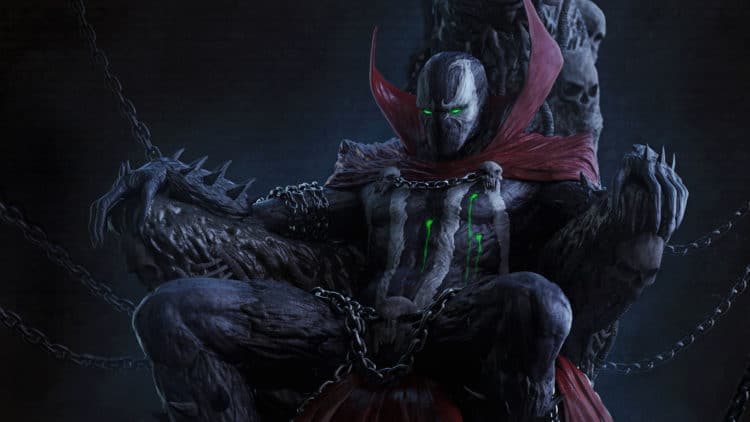 The need and desire for a worthy Spawn movie is definitely getting to some people since they want to see Jamie Foxx take the helm and get in there to rip things up and make something that we were hoping for when Michael Jai White was acting out the part of Al Simmons. Mike Fleming Jr. of Deadline has more to say about this subject. Since nothing came of that fans have been chomping at the bit to see something made from Todd McFarlane's creation that would prove worthy of recognition and the fame that the comic has generated throughout the years. The fan that created this trailer obviously spent some time gathering clips together but given that there aren't a lot of notable clips from the last Spawn movie that were really that great it's what could be done, and it's not too bad. It's obviously wide of the mark given how many different movies had to be used to compile it but a lot of people happen to know the story of Spawn at this point, or at least the basics, and are likely excited to hear that it will be coming out eventually. Now all that the movie needs is to be miles better than the last attempt and somehow grounded enough that it won't come off as a B-horror movie.
So far as it's been seen and heard of the next coming of Spawn is going to be a lot different and won't be centered around making Spawn a superhero, which could have been one of the biggest mistakes of the previous movie since it forced the character into a role that anyone reading the comics might guess isn't really where Spawn belongs right off the bat. After all it took a while for Al Simmons to really get into the role of being a hellspawn, and despite having a host of detractors ready to rip his head off he hasn't always been the nice, endearing character that the last movie tried to make him out as. This time around it doesn't sound as though things will be the same and thankfully Spawn won't become the reluctant good guy that he was in the other movie. Todd McFarlane, the creator of Spawn and soon to be the director of the upcoming movie, had this to say per Eric Francisco of Inverse:
"In the background, there's this thing moving around, this boogeyman. That boogeyman just happens to be something that you and I, intellectually, know is Spawn," he told ComicBook.com in 2017. "Will he look like he did in the first movie? No. Will he have a supervillain he fights? No. He's going to be the spectre, the ghost."
That makes it pretty clear that Spawn isn't going to be going head to head with the psychotic clown or any other super-powered villain, which sounds a little anticlimactic for a character that has so many people wanting to kill him on both sides of the morality line. But it does sound as though McFarlane has a plan and that we'll be made privy to it when he's good and ready. As of right now the movie has been coming to us at a snail's pace as Todd has been trying to get people interested and craft the story in a way that is amenable to what he wants and to what he believes the fans deserve since really, Spawn is an interesting character but it's very possible to take him over the top way too easily. He can lend himself to certain indulgences and abuses on screen since the power that the character is imbued with is intense and so overreaching that it might make a special effects supervisor drool with anticipation. The problem there however is the ability to plan in excess and go overboard in a way that would kill the movie more or less with special effects that might drown out the story. Where the conflict is going to lie will be interesting to see when it comes to McFarlane's vision, but given that this is a tortured character it's easy to think that something will come along that will tickle McFarlane's fancy if it hasn't already.
One might have assumed that Spawn would have been given a movie worthy of his stature at this point but again the one that's already been released was an attempt that was better left on the drawing room floor despite the fact that it was the best that we had to go by at the time. There weren't a lot of redeeming qualities to the movie unfortunately and Martin Sheen and John Leguizamo didn't really add much to it despite their experience. Sometimes you can't just throw good actors into the mix and hope everything will work out the way it needs to, especially when the idea never found the rails to fly off of in the first place.